Noody 1.0 is a visual search engine (also a news explorer) that breaks the user out of the usual way he browses for news (from the top down). It is a very powerful interface to improve search within large collections of items.
Abstract
Noody (from "mood", "node") is an exploratory design research program envisioning to implement post-WIMP visual data representation systems offering a better spatial hierarchical organization of metadata. For this, it attempts quite particularly to create new description methods in regards to constraints of research space as well as to develop processes of information type assignment, both static and dynamic. Furthermore, it aims to elaborate original interfacing procedures dedicated to semi-immersive interactive display of hypermedia data. As a result, we obtained new solutions in formalization and in description of informative space as well as in modeling of decomposition processes and of pre-processing of knowledge.
Today, Noody solutions are based on an original application of several methods of semantic analysis capable of foreseeing plans of information distribution through "contagion" thus bringing about the construction of new access modules to databases and of new "middleware" layers. The obtained results allow to create new procedures of data location and retrieval, as well as to the integration of innovative processing tools.
Noody 1.0 is a visual search engine that breaks the user out of the usual way he browses for news (from the top down). It is a very powerful interface to improve search within large collections of items: more than 100 sources (world newspapers, magazines, and news sites in English, sorted by country and region – Africa, Asia, Europe, India, Oceania, South America, U.S. / Canada; e.g. The Guardian, Washington Post, The International Herald Tribune, The New York Times, AFP [France] Google, Yahoo, etc.), over 500,000 items available daily.
Screenshots
Noody 1.0 defines an original semantic space consisting of a center and a periphery (without limit): the center (sported a luminous halo) defines the "epicenter" or rather the "center of gravity/mass" of the graphical information space (it refers to the #0 of the semantic space); the periphery is composed of different semantic areas (multistage era) that includes several degrees of relevance: the most relevant items move towards the center while others are pushed to the periphery.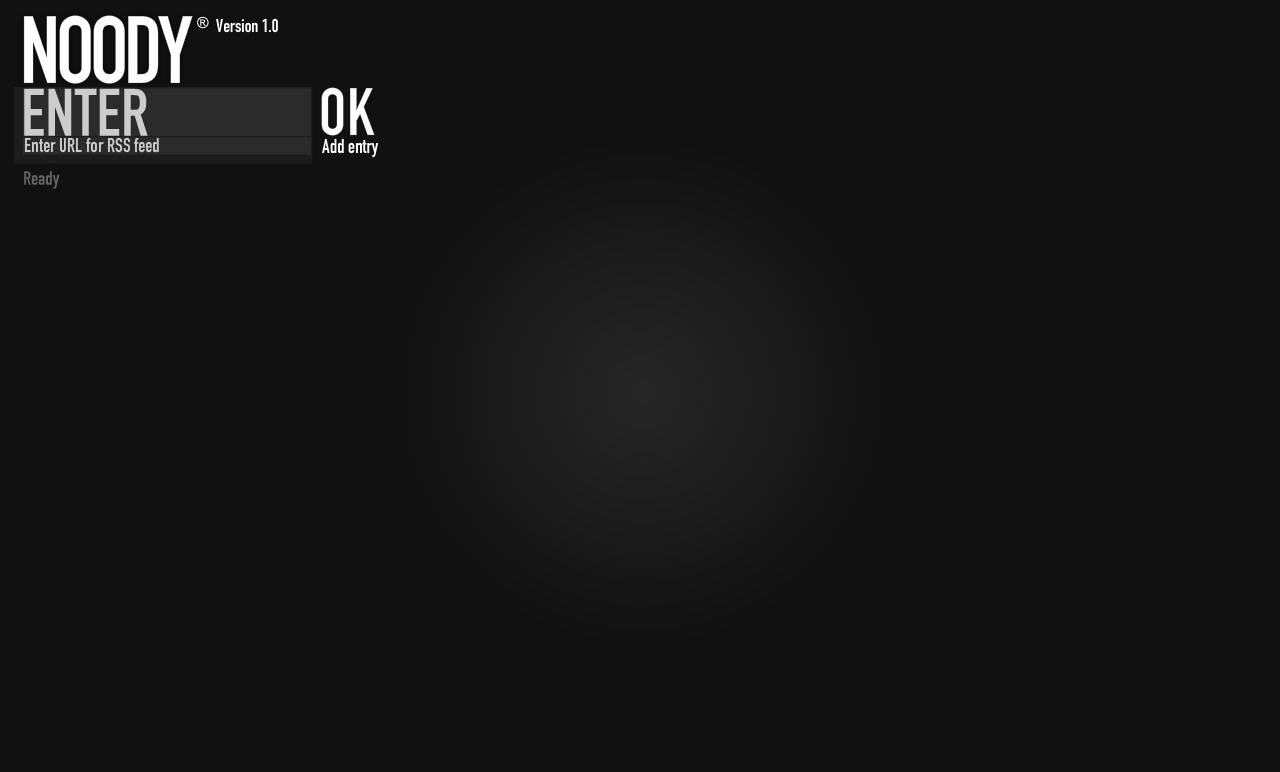 Initially, the user gets a blank canvas and a search box. He enters a keyword, set of keywords, or keyword phrase in the box and then take a stroll in the semantic space…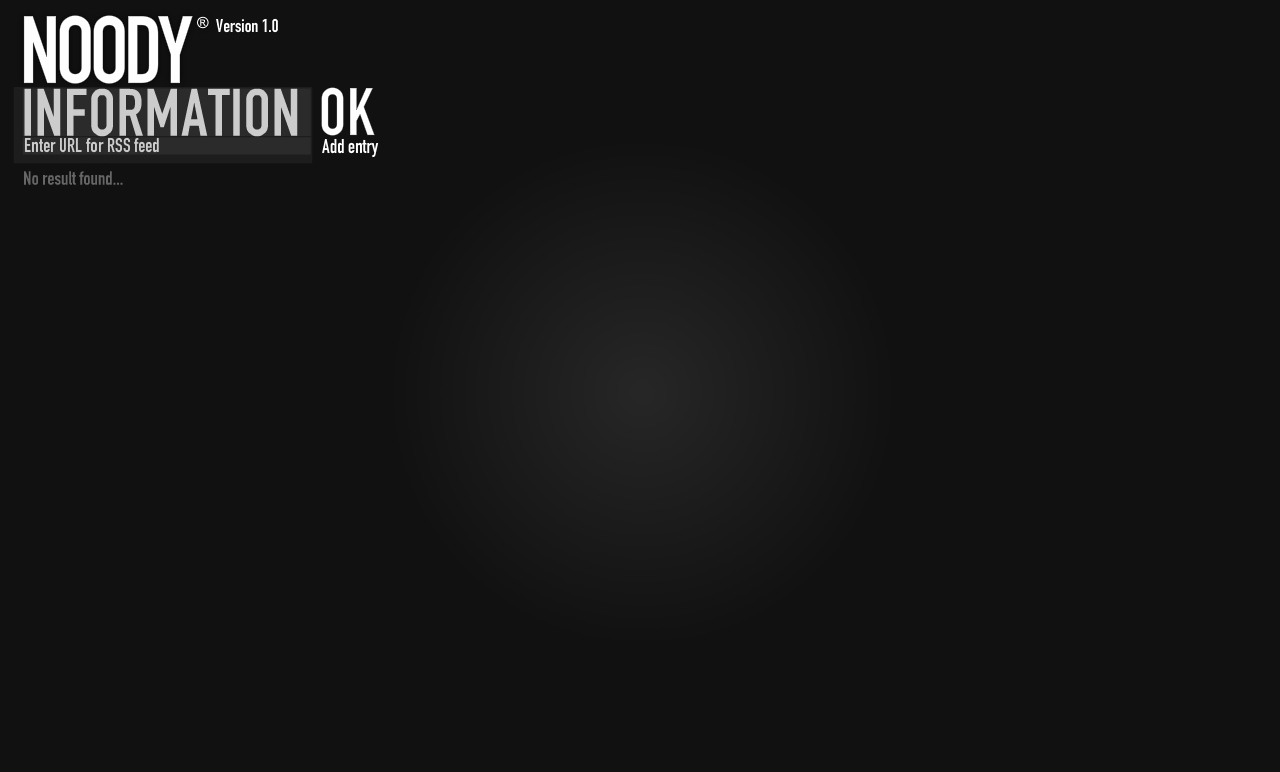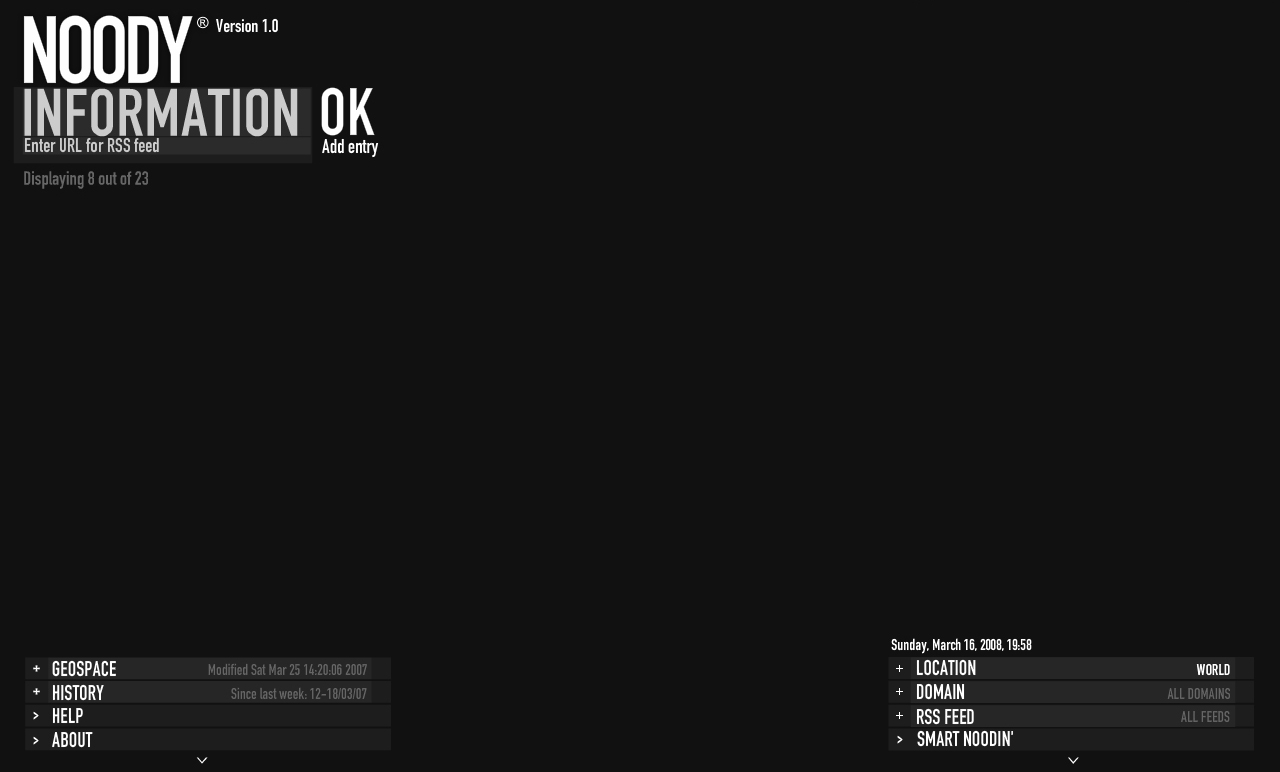 Using the geocode library, Noody 1.0 is a data visualization based app defining an offbeat way to browse news.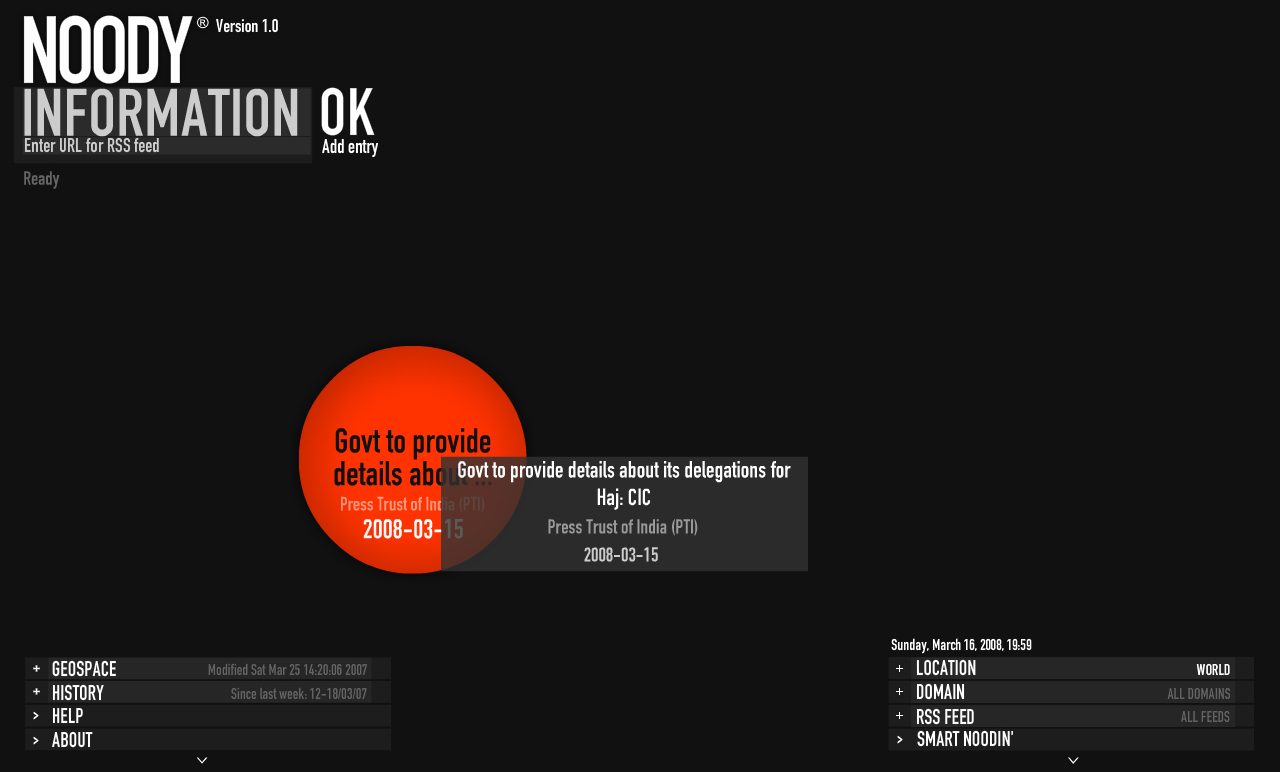 A drop down menu is available in each node showing different contextual features…
Cluster analysis techniques are used to connect items according to their similarities: the system automatically combines similar items into a single node and indicates common keywords (e.g. "easier.clear.history").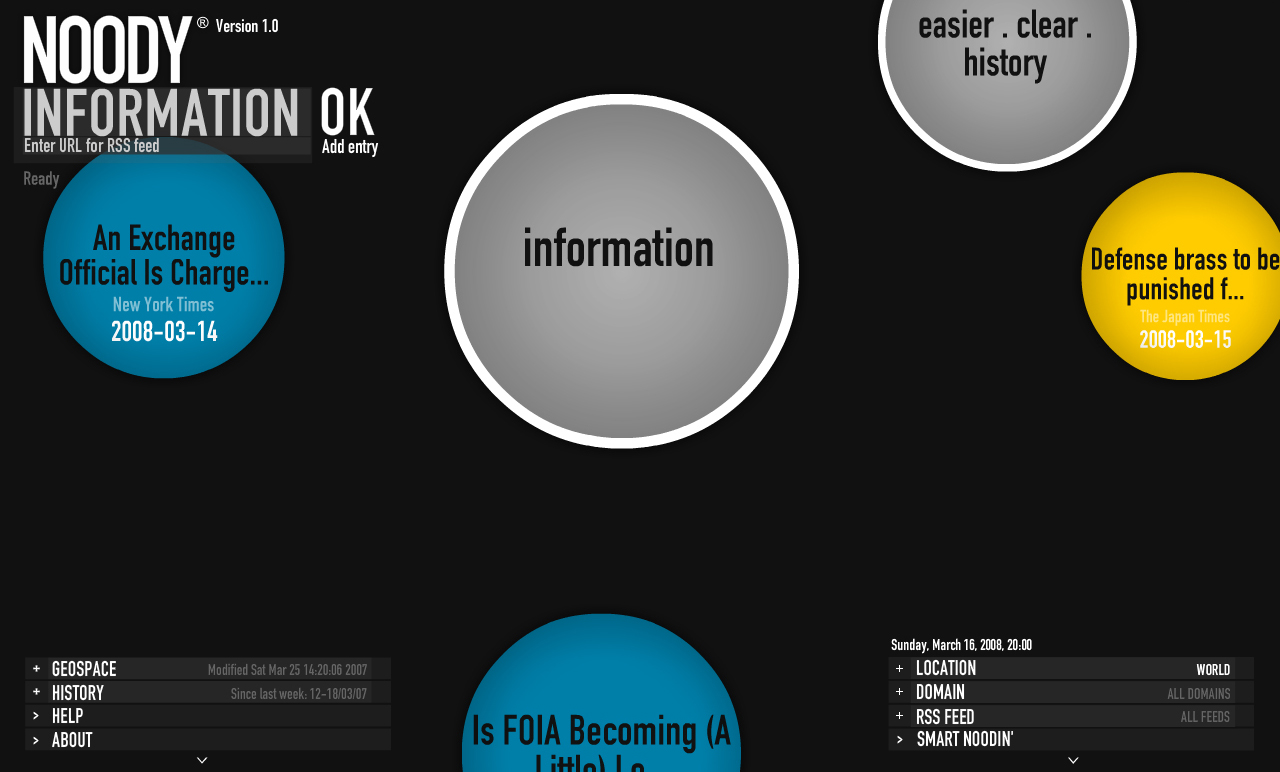 Noody 1.0 displays a graphical networks of search result and offers the user to navigate through the screen (without boundary or contour), and then to discover hidden semantic areas on the periphery.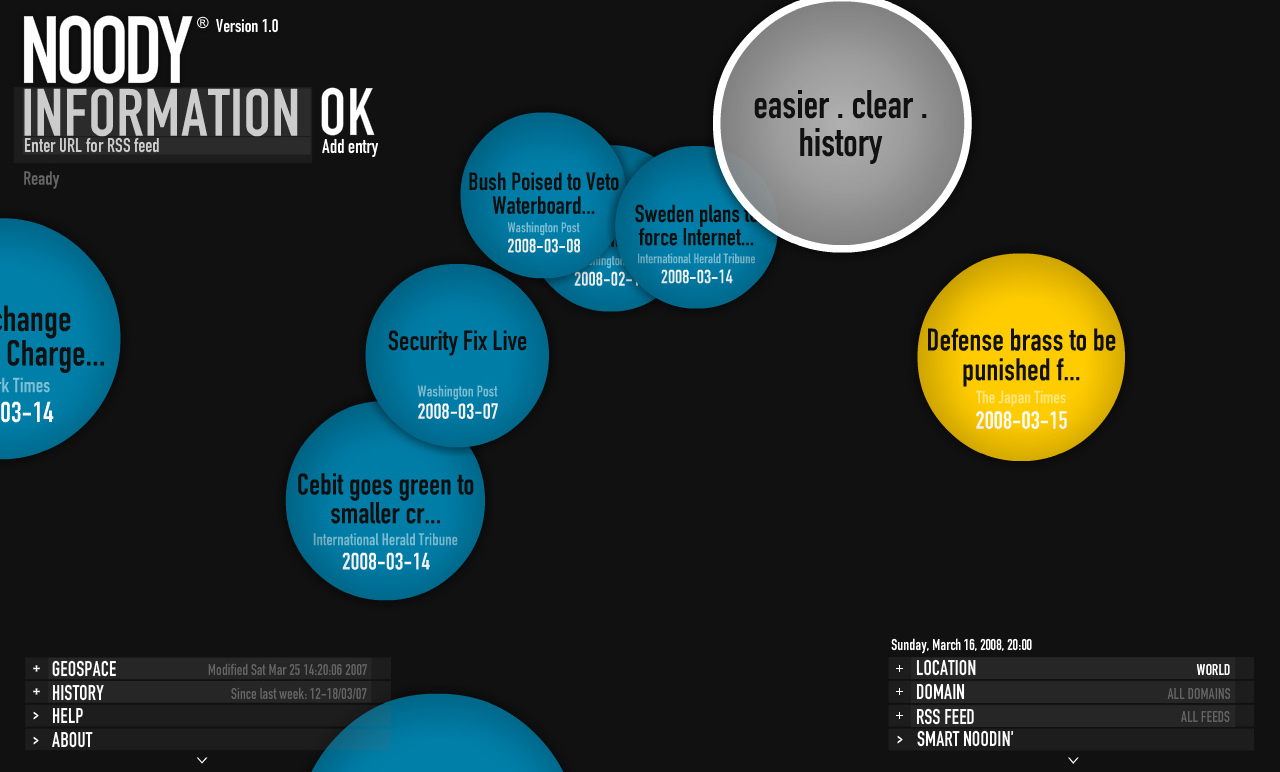 Finally, the user can directly access the selected item…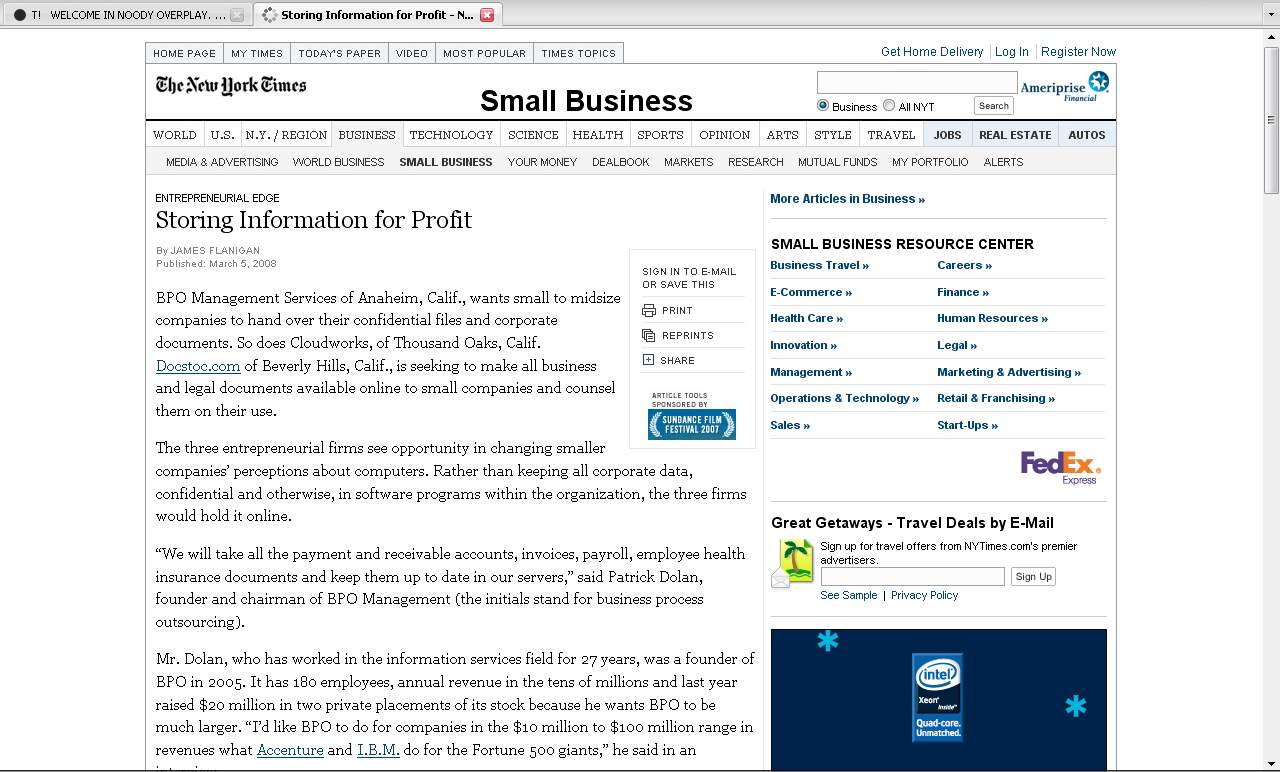 Noody offers different tools for interactive manipulation of graphical displays: location; domain; RSS feed; also history and geospace (configuration tools of the geosemantic space).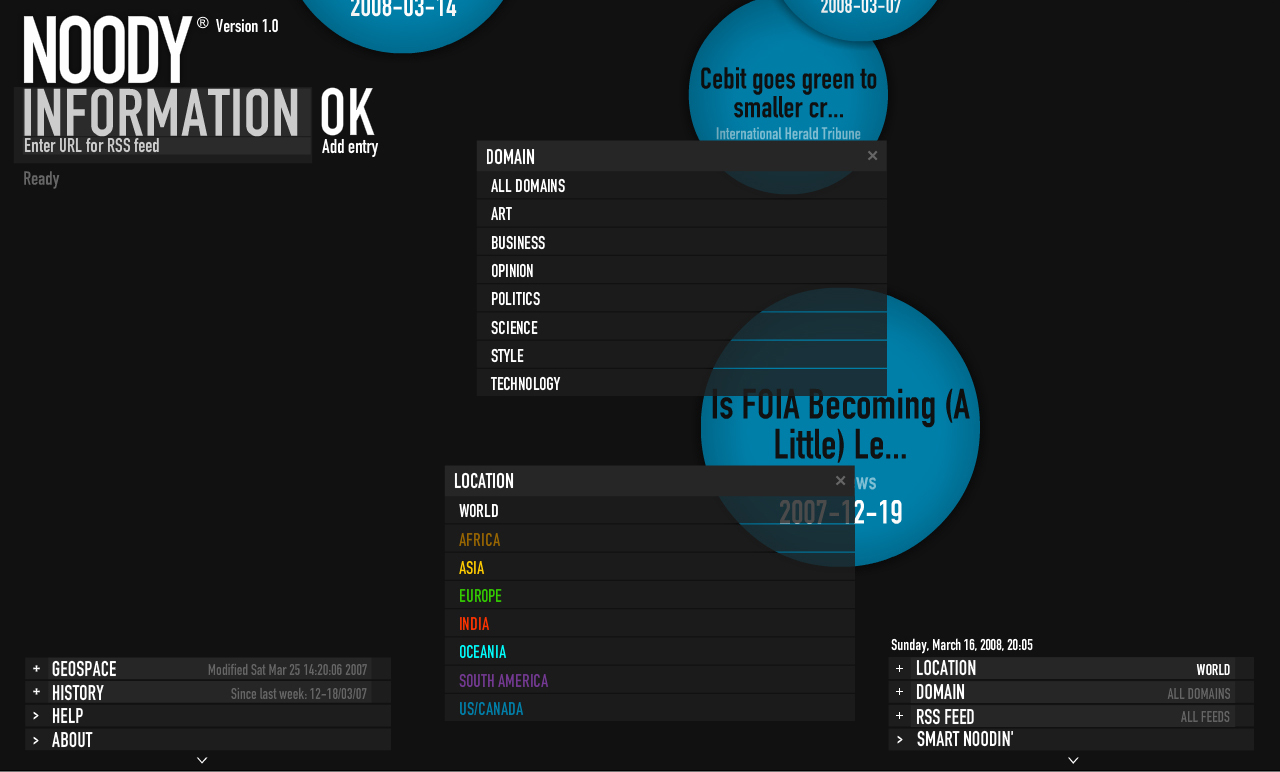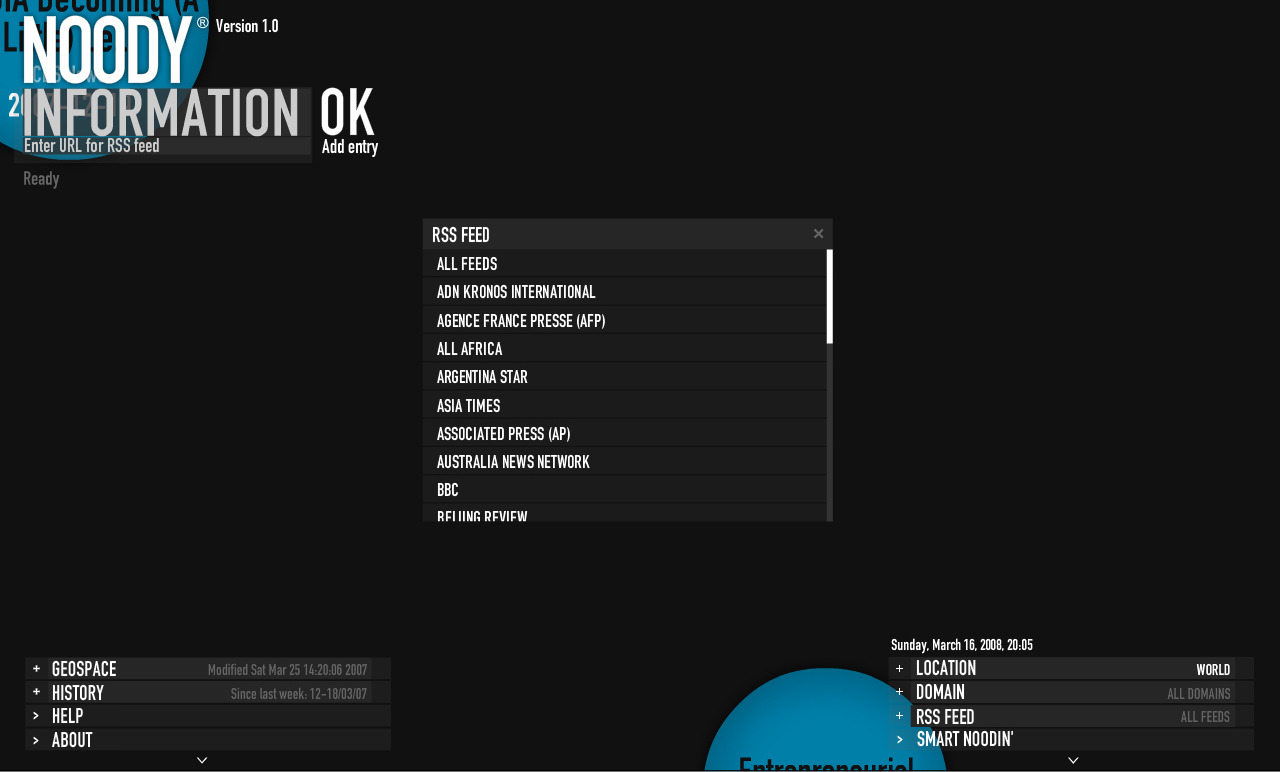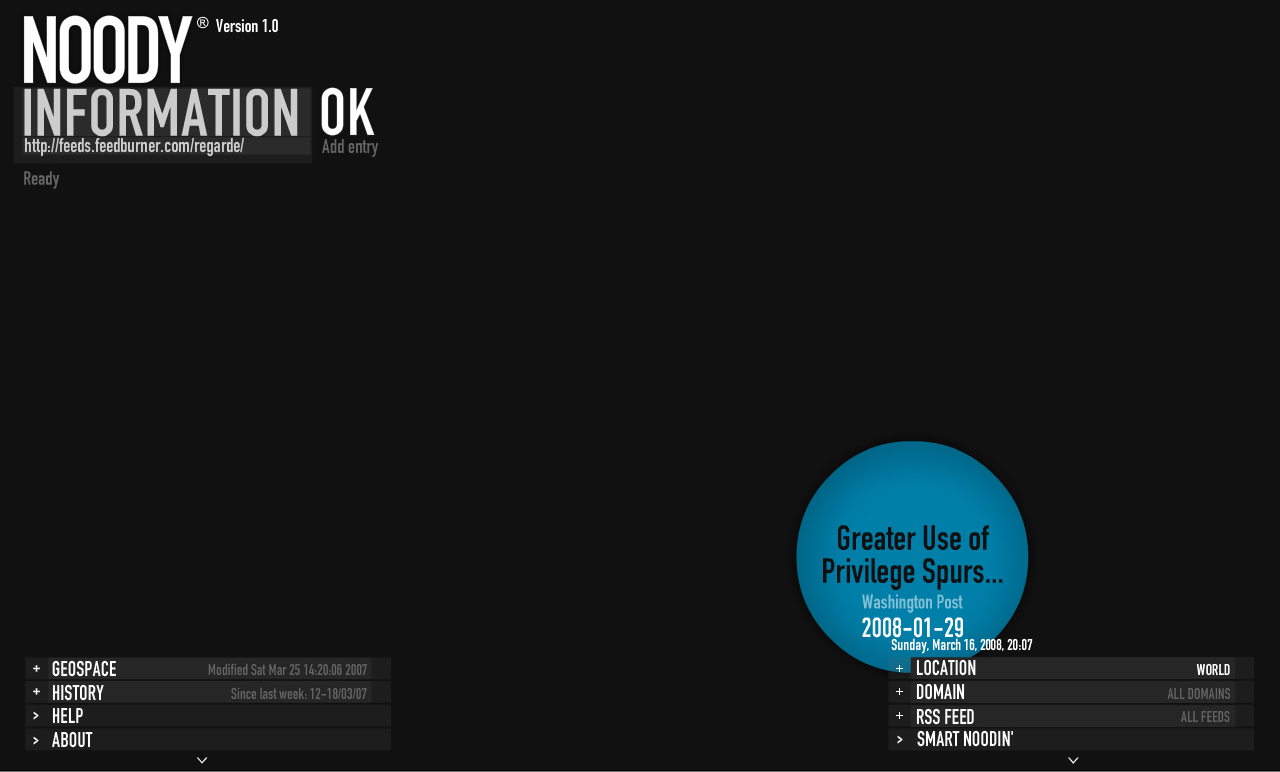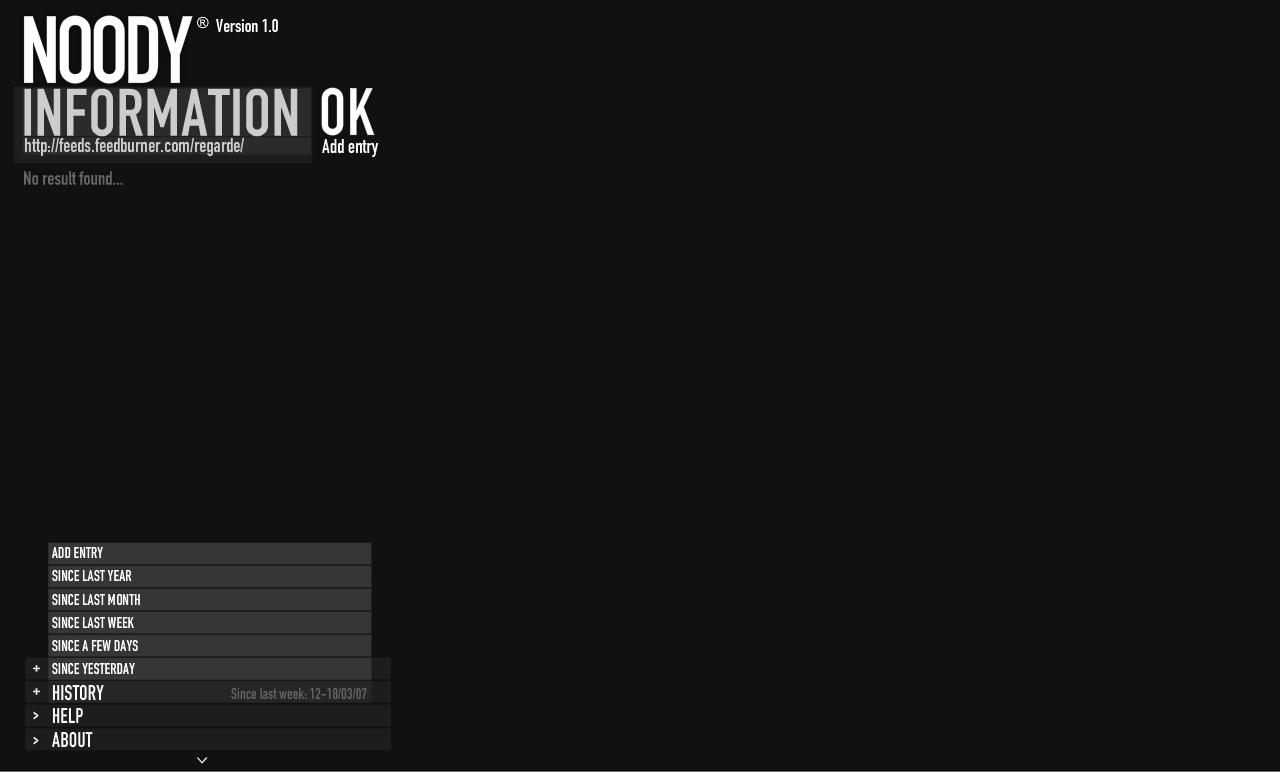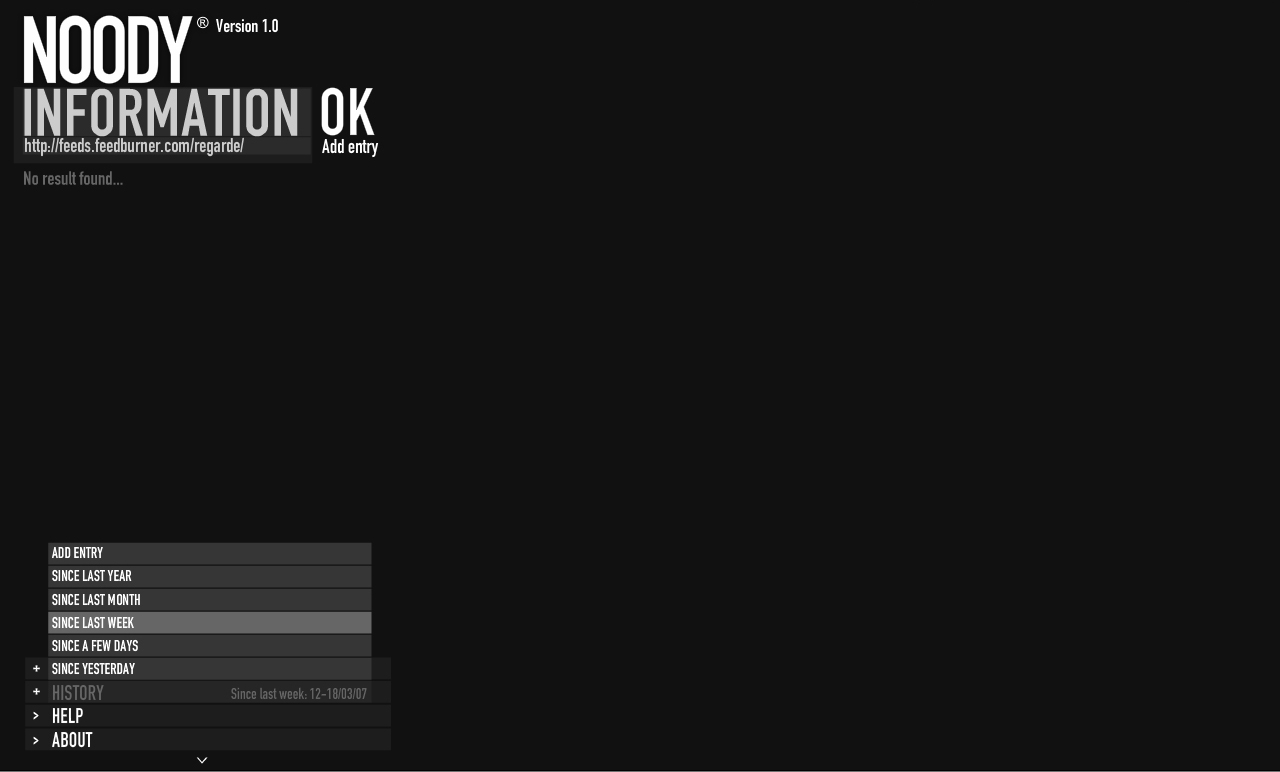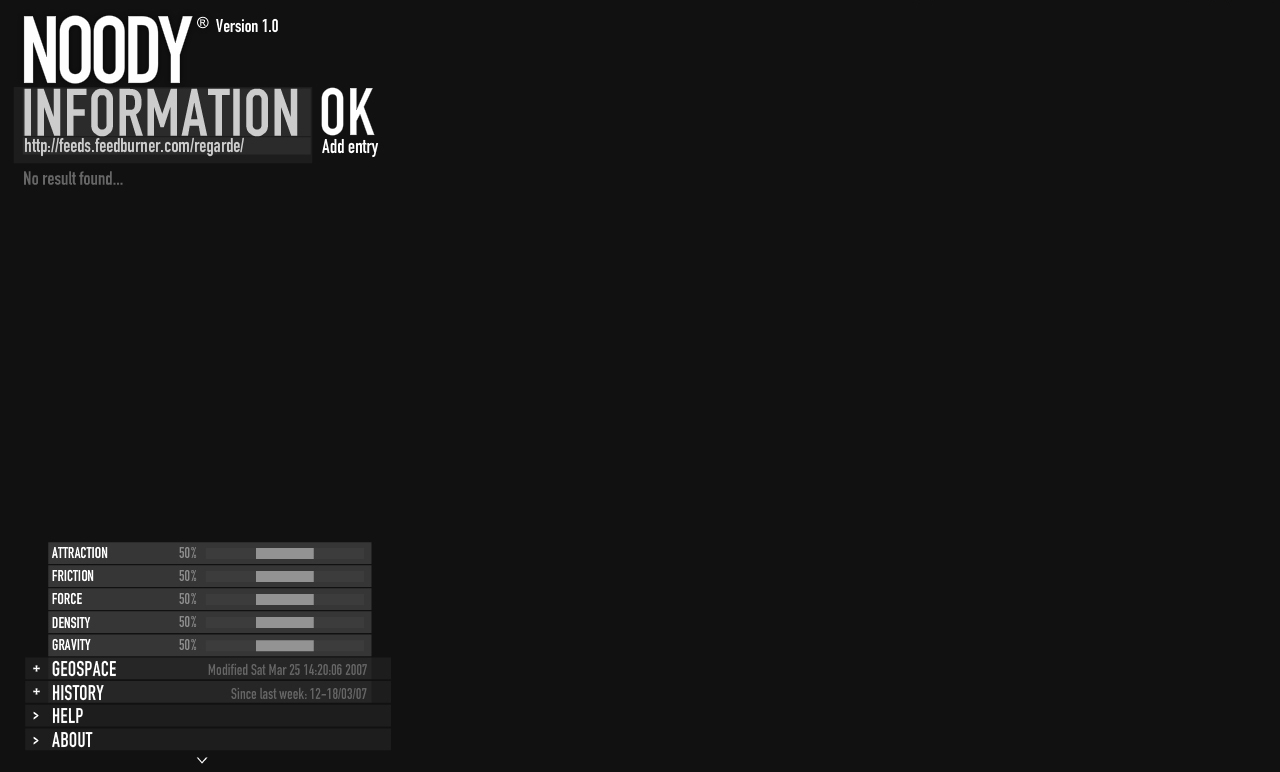 Screencast
A two-person team
UI design, front-end development: David Bihanic
AI model programming, back-end web development: Thibault Jaillon
Programming languages: ActionScript®3.0, PHP, XML.
URL link
V1.0 app jointly developed by David Bihanic and Thibault Jaillon – try it out: http://www.noody.fr
To mention:
David Bihanic, Thibault Jaillon, "Noody 1.0", December 2007. Retrieved from noody.fr