This map (that renews the choropleth model) depicts France's Digital Pollution—what I mean by Digital Pollution is the combination of several forms of pollution linked to the digital revolution: the particulate matter pollution from silicon production and processing, the adverse effects of electromagnetic fields (GSM, UMTS, WiFi, WiMAX, etc.) on health and the environment, the excessive carbon dioxide emissions of datacenters (caused by, among other things, their massive electrical energy consumption), as well as the high greenhouse-effect gases emissions from the incineration of toxic e-waste (almost 2 million tons of WEEE every year).
Few key figures below which help to grasp the current situation:
– Datacenters consume around 10% of the electricity in the country,
– At present, there are about 58,944 relay antennas installed in France (including its overseas territories),
– France generates 45,72 kg of e-waste (WEEE) per second,
– Every french person produces on average around 20 kg of e-waste (WEEE) per year.
(Click to enlarge image)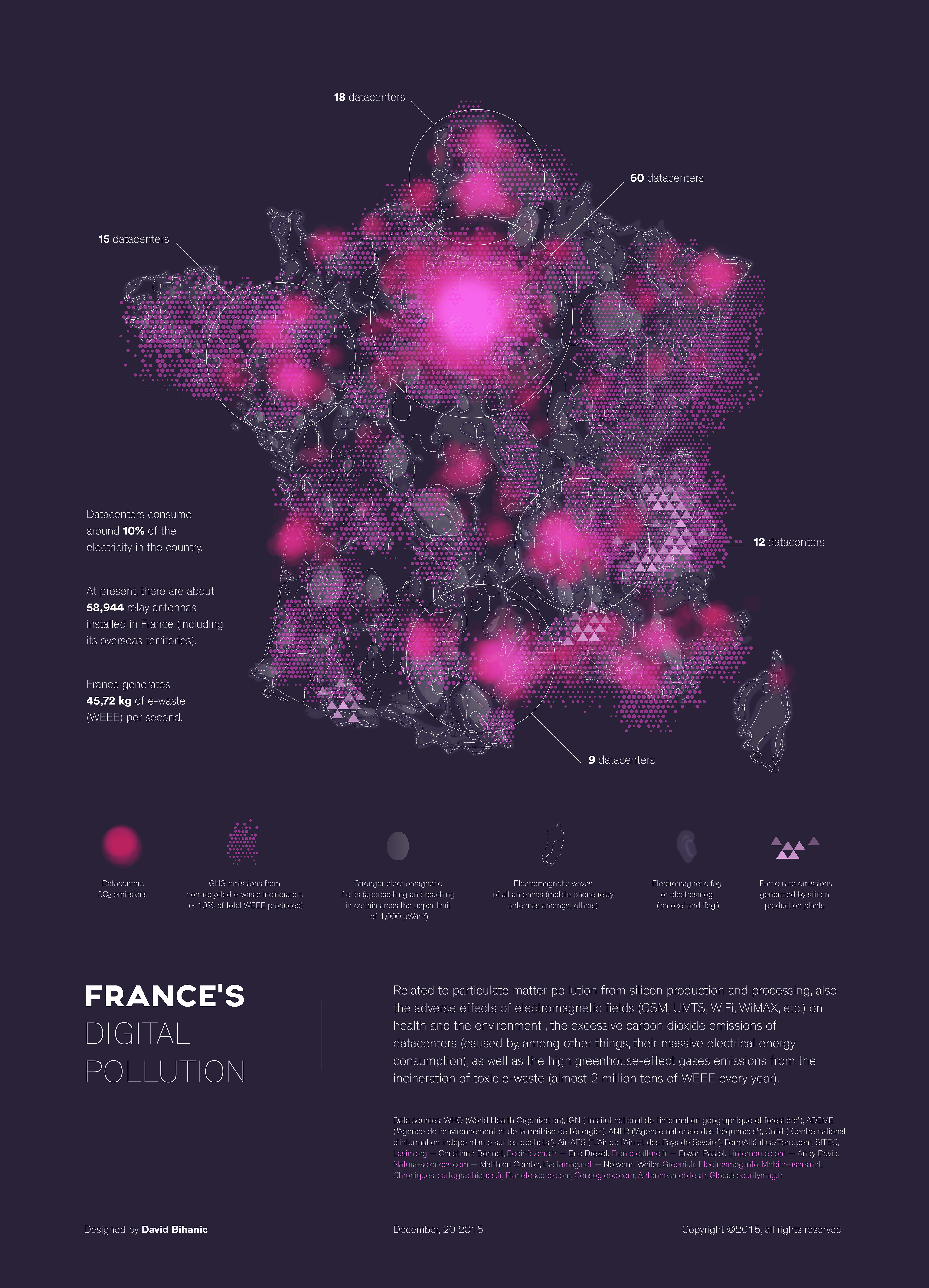 Data sources:
WHO (World Health Organization)/OMS ("Organisation mondiale de la Santé"), IGN ("Institut national de l'information géographique et forestière"), ADEME ("Agence de l'environnement et de la maîtrise de l'énergie"), ANFR ("Agence nationale des fréquences"), Cniid ("Centre national d'information indépendante sur les déchets"), Air-APS ("L'Air de l'Ain et des Pays de Savoie"), FerroAtlántica/Ferropem, SITEC,Lasim.org—Christinne Bonnet, Ecoinfo.cnrs.fr—Eric Drezet, Franceculture.fr—Erwan Pastol, Linternaute.com—Andy David, Natura-sciences.com—Matthieu Combe, Bastamag.net—Nolwenn Weiler, Greenit.fr, Electrosmog.info, Mobile-users.net, Chroniques-cartographiques.fr, Planetoscope.com, Consoglobe.com, Antennesmobiles.fr, Globalsecuritymag.fr.
La pollution numérique relève d'un mélange de diverses sources (accentuées par la 4e révolution industrielle), soit notamment la pollution particulaire provenant des sites de production et de transformation du silicium, la pollution électromagnétique (GSM, UMTS, WiFi, WiMAX, etc.)—il est aujourd'hui scientifiquement prouvé qu'une exposition prolongée aux champs électromagnétiques encoure des effets nuisibles pour la santé humaine—la pollution atmosphérique due, pour partie, au rejet excessif de dioxyde de carbone des centres de données (lesquels demeurant, par ailleurs, très énergivores), ou bien encore à l'émission massive de gaz à effets de serre (GES) issue de l'incinération des déchets électroniques toxiques non-recyclés (près de 2 millions de tonnes de DEEE par an). Cette infographie donne forme et matérialité visuo-graphique à ces diverses émanations révélant ainsi une nouvelle carte du territoire hexagonal.
(Cliquez pour agrandir l'image)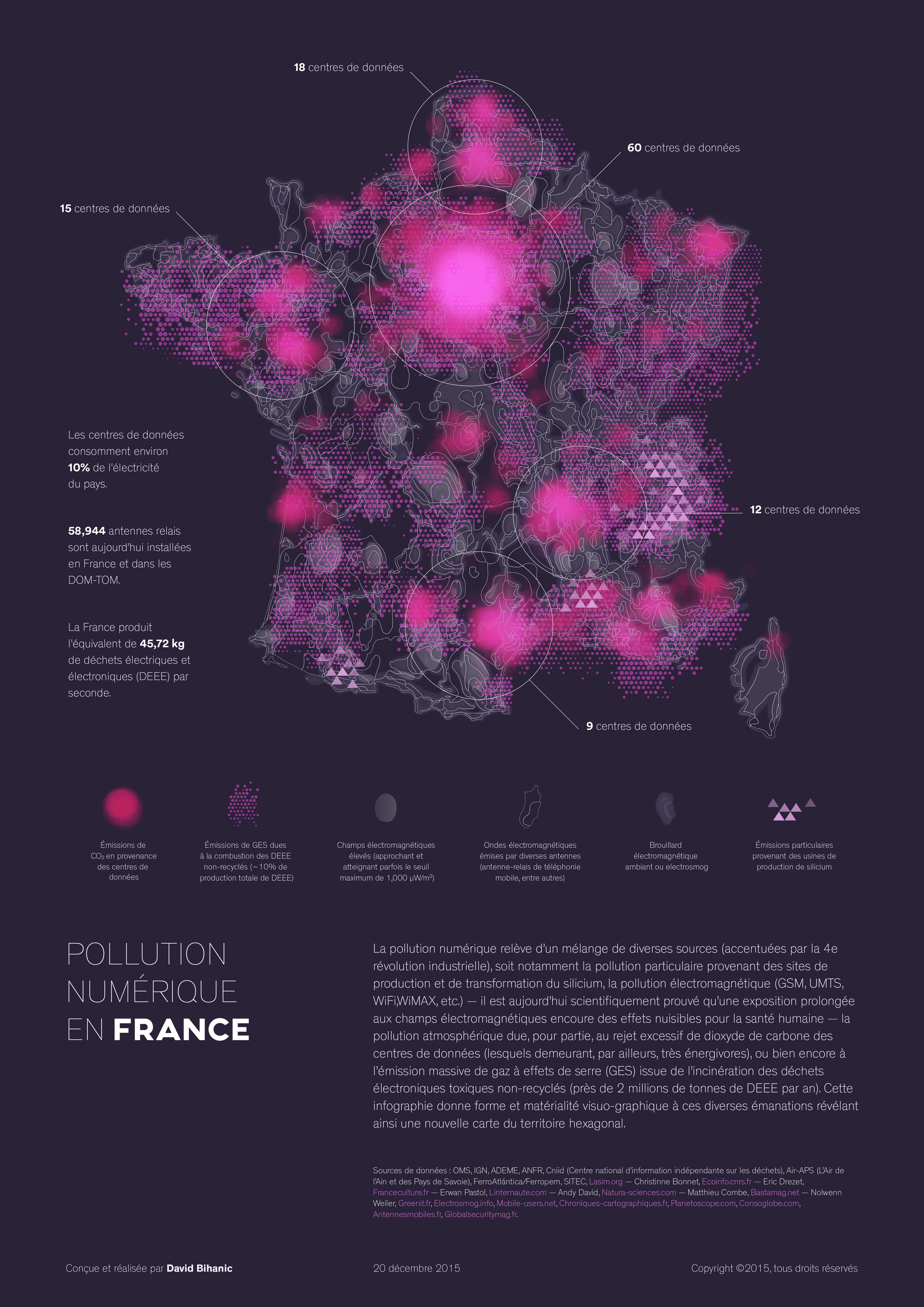 Publication
This visualisation was published in the June 2016 third issue of the 'Sciences du Design' scientific review edited by the 'Presses Universitaires de France'.
David Bihanic (2016), « La pollution numérique en France », Sciences du Design 2016/1 (n° 3). PUF, Paris, pp. 22-25.
URL (Cairn): https://www.cairn.info/revue-sciences-du-design-2016-1-page-22.htm
To mention: David Bihanic, "France's Digital Pollution (Infographics)", December 2015. Retrieved from davidbihanic.com/i1215f.jpg