Urban data wall
Our present-day cities are entirely crossed by flows and circulations of all kinds therefore configured into networks — for instance, transport networks, telecoms networks, energy networks, etc. Most of these infrastructures are invisible, "transparent" in our eyes. However, they concretely participate in shaping our living environments, just as they determine the development of our territories, spaces and urban landscapes. Using several thousands of flow data within Dijon Metropole for the year 2020, the k—artes project offers a large map visualization (animated day after day, from January 1 to December 31) of the electricity consumption in public buildings, and the household (and similar) waste collection circuits. This data layers are graphically mixed/superimposed with other fluctuations here imposed by Mother Nature, like the changes in temperature and humidity, also the variations in the ambient air quality. Such an interweaving of measurements and visual representations reveals a truly unique image of the City in Movement.
Mur de données urbaines
Nos villes contemporaines sont traversées par des flux et circulations de toutes sortes dès lors configurés en réseaux —réseaux de transports, réseaux de télécoms, réseaux d'énergies, etc. Ces infrastructures sont, pour une large part, invisibles, comme "transparentes" à nos yeux. Pourtant, elles participent concrètement à dessiner nos cadres et environnements de vie, de même qu'elles conditionnent l'aménagement de nos territoires, de nos espaces et paysages urbains. Fort de l'exploitation de plusieurs milliers de données enregistrant ce type d'échange au sein de Dijon Métropole pour l'année 2020, le projet k—artes offre de visualiser sous forme cartographique animée à pas journalier (du 1er janvier au 31 décembre) certaines variations de données (consommation d'énergie électrique des bâtiments publics ; circuits de collecte des déchets ménagers et assimilés) lesquelles rencontrant d'autres fluctuations qu'orchestre cette fois la Nature (écarts de température, d'hygrométrie ; qualité de l'air ambiant). D'un tel entrecroisement de mesures et représentations visuo-graphiques se révèle une image proprement inédite de la ville en mouvement.
—Ce texte fut rédigé pour l'exposition « 1,2,3 data » au Musée de la Vie Bourguignonne de Dijon (du 25 septembre 2021 au 24 janvier 2022).
Exhibition
This installation is a core artwork of the "1,2,3 data" exhibition at the Museum of Burgundian Life in Dijon (from September 25, 2021 to January 29, 2022).
Images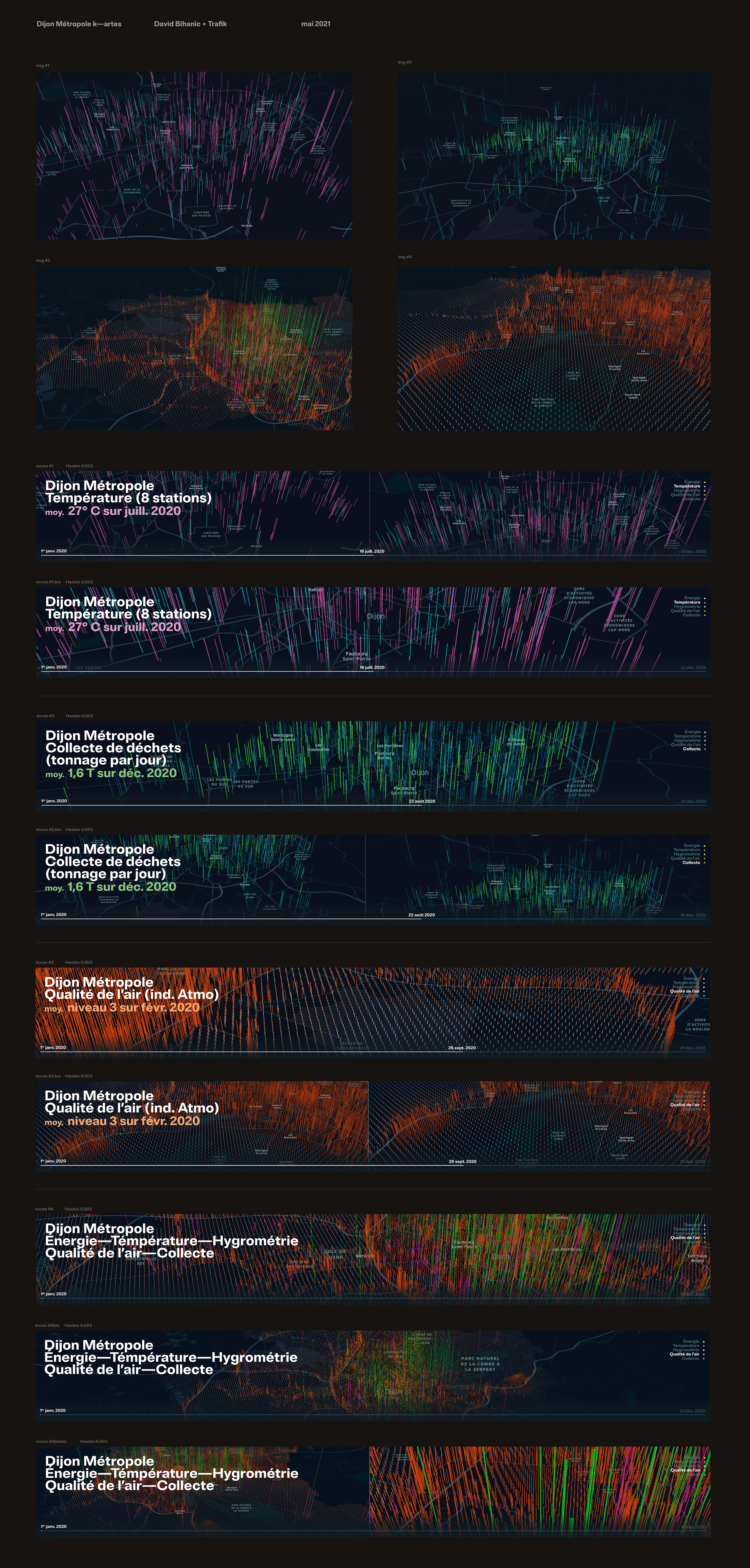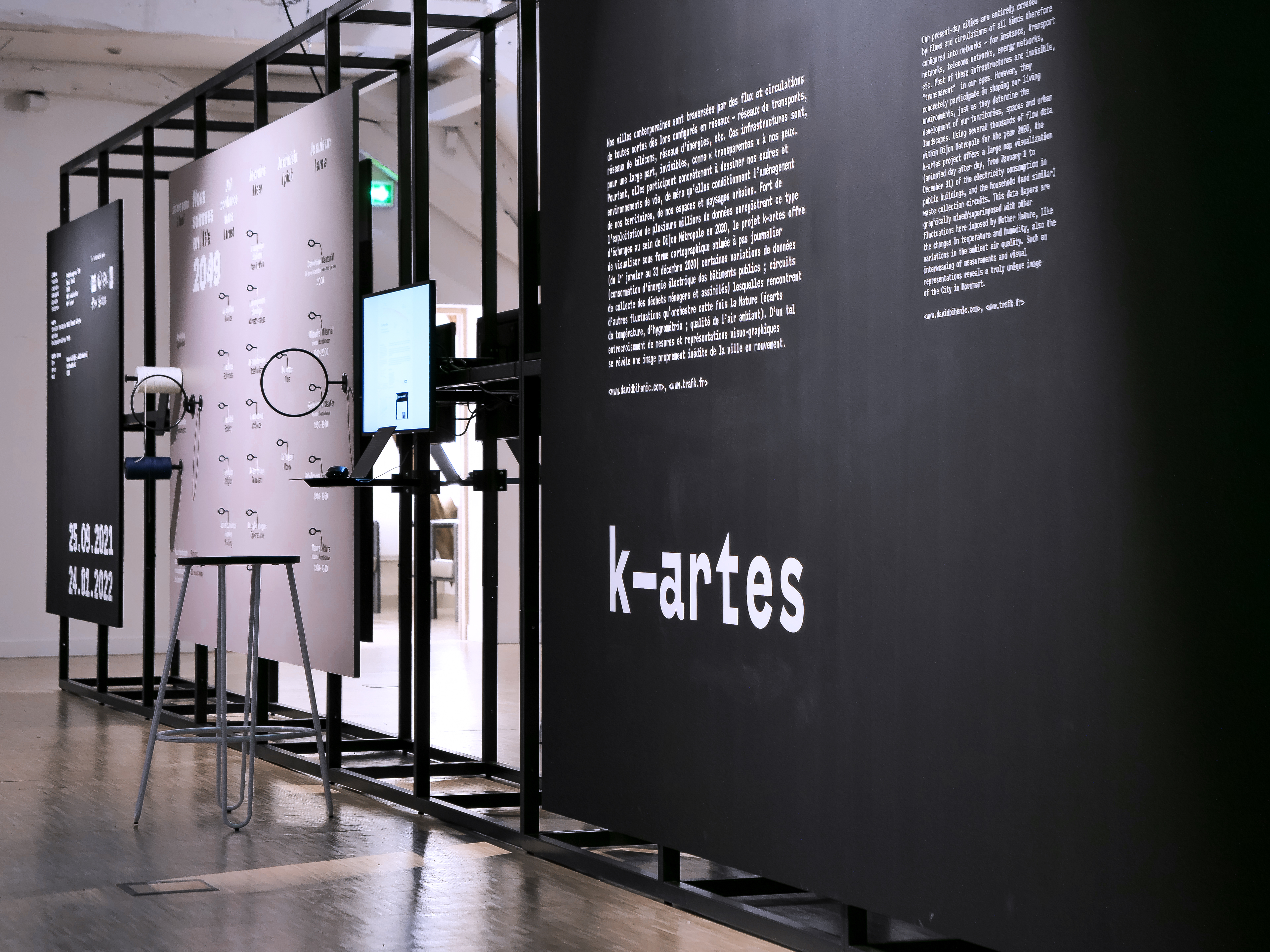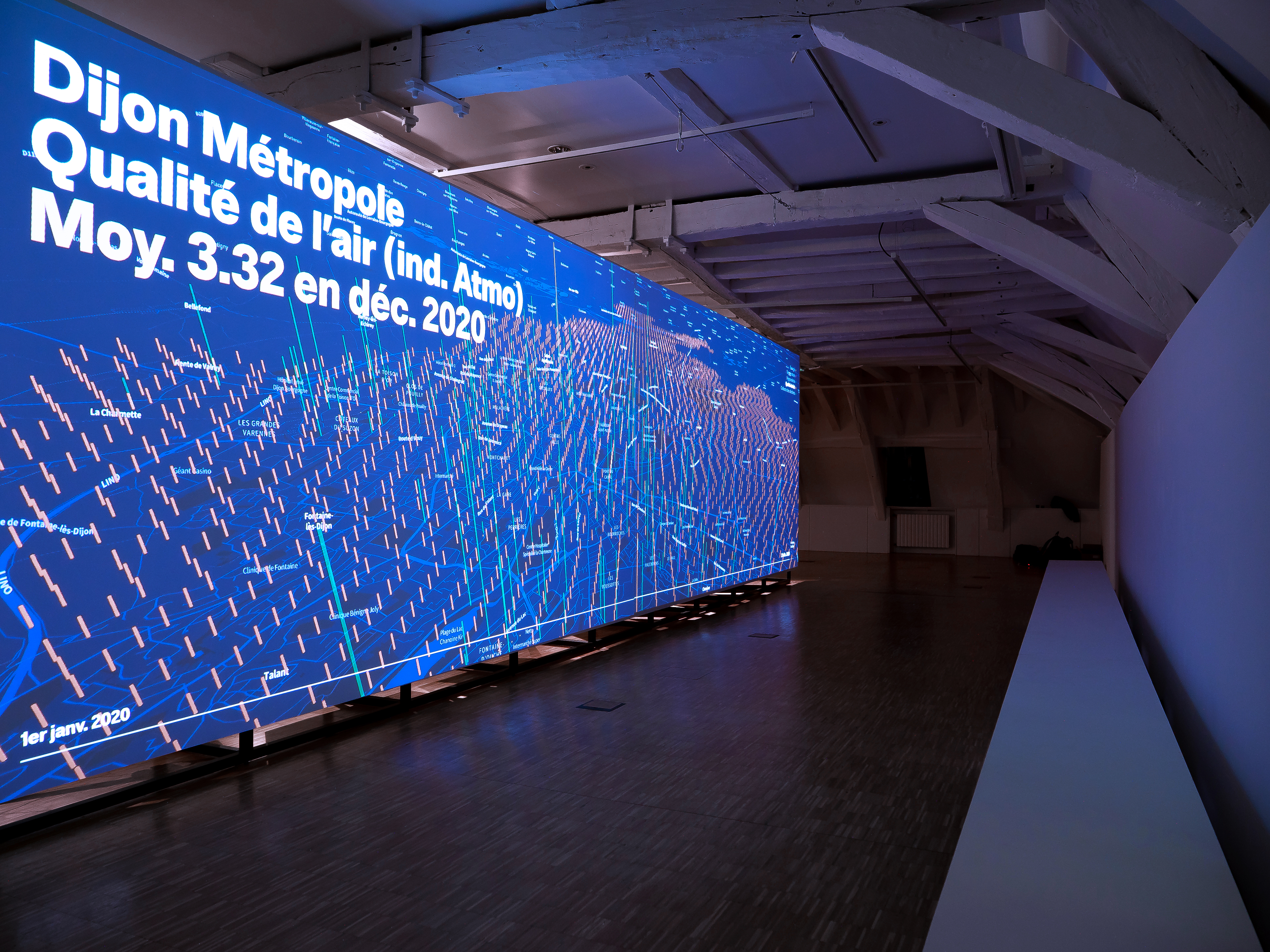 Team
This project was designed (data design) and developed (data analysis and programming) with the collaboration of the creative studio Trafik, particularly Joël Rodière.
To mention: David Bihanic, Trafik, "k—artes", September 2021.