When Social Vulnerability goes hand in hand with fear of Crime
In the words of Bill de Blasio and his team members, the New York City government would be at the brink of definitively rooting out crime, that is to say putting an end to all forms of violence against persons, as well as violations of their physical (and mental) safety starting with the most serious: intended and unintended killings and aggravated assaults. The statistics speak for themselves, argue the elected local officials ; the rate of crime is constantly decreasing: 330 intentional homicides in 2017, compared with 334 in the previous year, according to the New York Times; a record rate, the lowest since the end of World War II. A spectacular fall regarding to the dramatic peak of 2,245 deaths recorded in 1990. Let us remind ourselves the commitment made at the time by Rudolph Giuliani (former mayor of the city) to pursue a "Zero-Tolerance" policy against crime (a slogan borrowed from Ronald Reagan). The Republican had then engaged in a fierce fight against offenders and criminals promising the inhabitants the return to a quality of life lost during the previous decade. This was his second aim (and slogan): the famous "Quality of life policing". What is the concrete situation today? If the crime rate has indeed declined, does that mean, arithmetically, the quality of people's lives is improving? And if so, does the living conditions really progress for all citizens? In the present webmap, I've reconciled two datasets: a first one drawing up a list of the major crimes committed in NYC during the year 2017 (such as murders, assassinations, beatings and further types of physical attacks)—these data are provided by the police authorities—and a second one listing a whole series of measures dealing with the social vulnerabilities on the territory—Social Vulnerabilty Index are produced by Regional Plan Association. The conclusion is clear: if the quality of life is apparently improving for certain individuals, many others still fall prey to crimes which are rampant in some boroughs, quarters an streets where social distress is most acute. We are all aware of the huge social fragmentation that splits the city in two (are residing in NYC both the very rich and the very poor). But what may be less well known is that misery, poverty and state fragility are often, if not always, linked to insecurity, physical (also psychological) suffering and constant fear.
À en croire Bill de Blasio et son administration, la ville de New York serait en passe d'éradiquer définitivement le crime, soit en d'autres termes de mettre fin une fois pour toute aux violences et atteintes de toutes sortes à l'intégrité physique (devançant bien souvent celle psychique) des personnes, à commencer par les plus 'graves' d'entre elles : homicides volontaires et involontaires, agressions avec coups et blessures. Les chiffres parleraient d'eux-mêmes, arguent les gouvernants ; un taux de criminalité qui s'avance à la baisse : 330 homicides volontaires en 2017 contre 334 l'année précédente, selon le New York Times. Il s'agit là d'un taux record, le plus bas depuis la fin de la deuxième guerre mondiale : une chute jugée spectaculaire au regard du pic des 2245 morts enregistrés en 1990. Rappelons-nous l'engagement à cette époque de Rudolph Giuliani (ancien maire de la ville) de mener une politique de « tolérance zéro » (slogan emprunté à Ronald Reagan) ; le républicain s'était alors engagé dans une lutte acharnée contre les délinquants et criminels promettant aux habitants le retour à une qualité de vie perdue lors de la décennie précédente*—ce fut là sa seconde visée (et slogan), le fameux « Quality of life policing ». Qu'en est-il donc aujourd'hui ? Le crime fléchissant bel et bien, est-ce à dire (de façon presque arithmétique) que la qualité de vie s'améliore ? Et si tel est le cas, celle-ci s'améliore-t-elle pour tous, soit pour l'ensemble des administrés ? Au sein de cette cartographie, j'ai croisé deux jeux de données : celui des crimes les plus 'graves' (assassinats, meurtres, attaques physiques, tabassages, etc.) recensés par les autorités policières de la ville au cours de l'année 2017 et celui présentant la 'couverture géographique' des plus grandes vulnérabilités sociales. Le constat est sans appel : si la qualité de vie s'améliore sans doute pour certains, bon nombre sont en proie à la peur du crime qui sévit encore dans les arrondissements et quartiers où la détresse sociale est la plus vive. Personne ne méconnait la fracture sociale béante qui scinde la ville de New York en deux (y résident les très riches ainsi que les très pauvres). Ce que l'on ignorera peut-être plus franchement, c'est qu'à la misère et fragilité des uns s'ajoutent les plus grands tourments, leur vie tout entière est faite de peur et de douleur.
* Au cours des années 70-80, la ville s'appauvrit du fait de la crise fiscale qui frappe le pays tout entier. S'ensuivent, entre autres, un fort ralentissement de l'économie, un affaiblissement de l'industrie, la réduction des effectifs publics (notamment au sein des forces de l'ordre), l'exode des classes moyennes et supérieures (s'ajoute à cela l'apparition du crack). Les conditions de la vie à New York se degradent sévèrement, sa criminalité augmentera quant à elle de 23%.
URL: http://www.davidbihanic.com/nyc
This dataviz project is optimized to work with the Chrome and Opera browsers.
Screenshots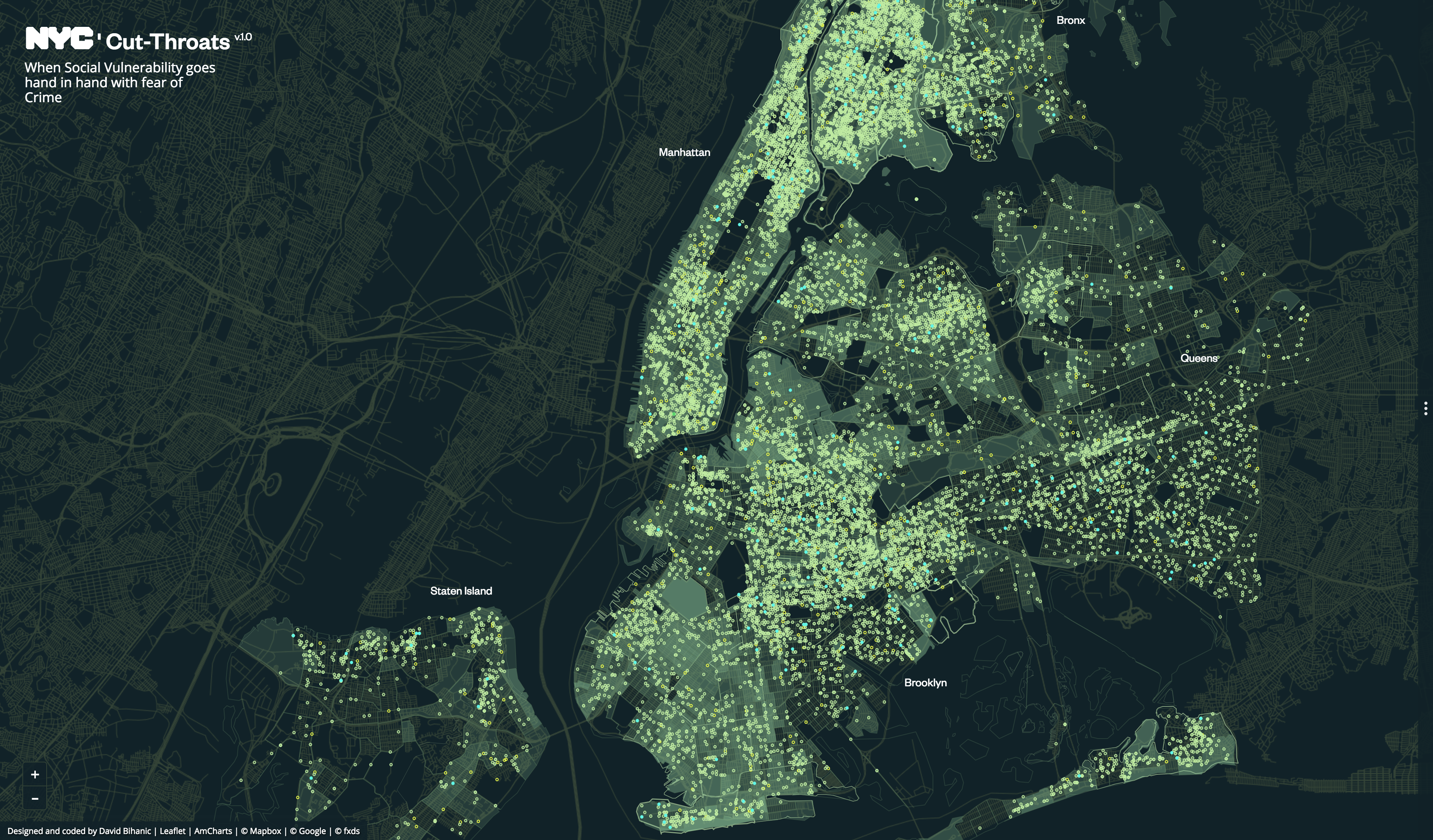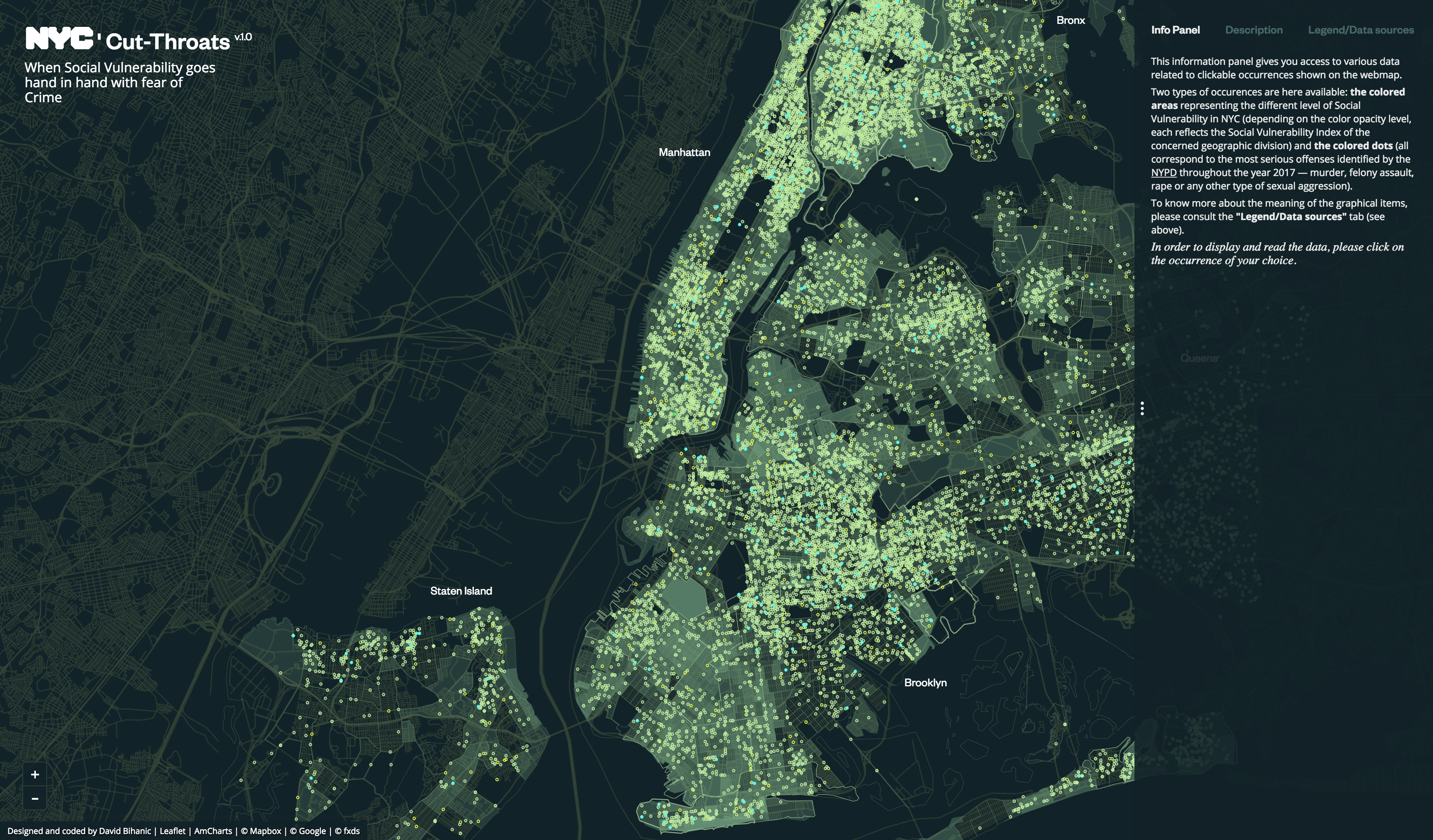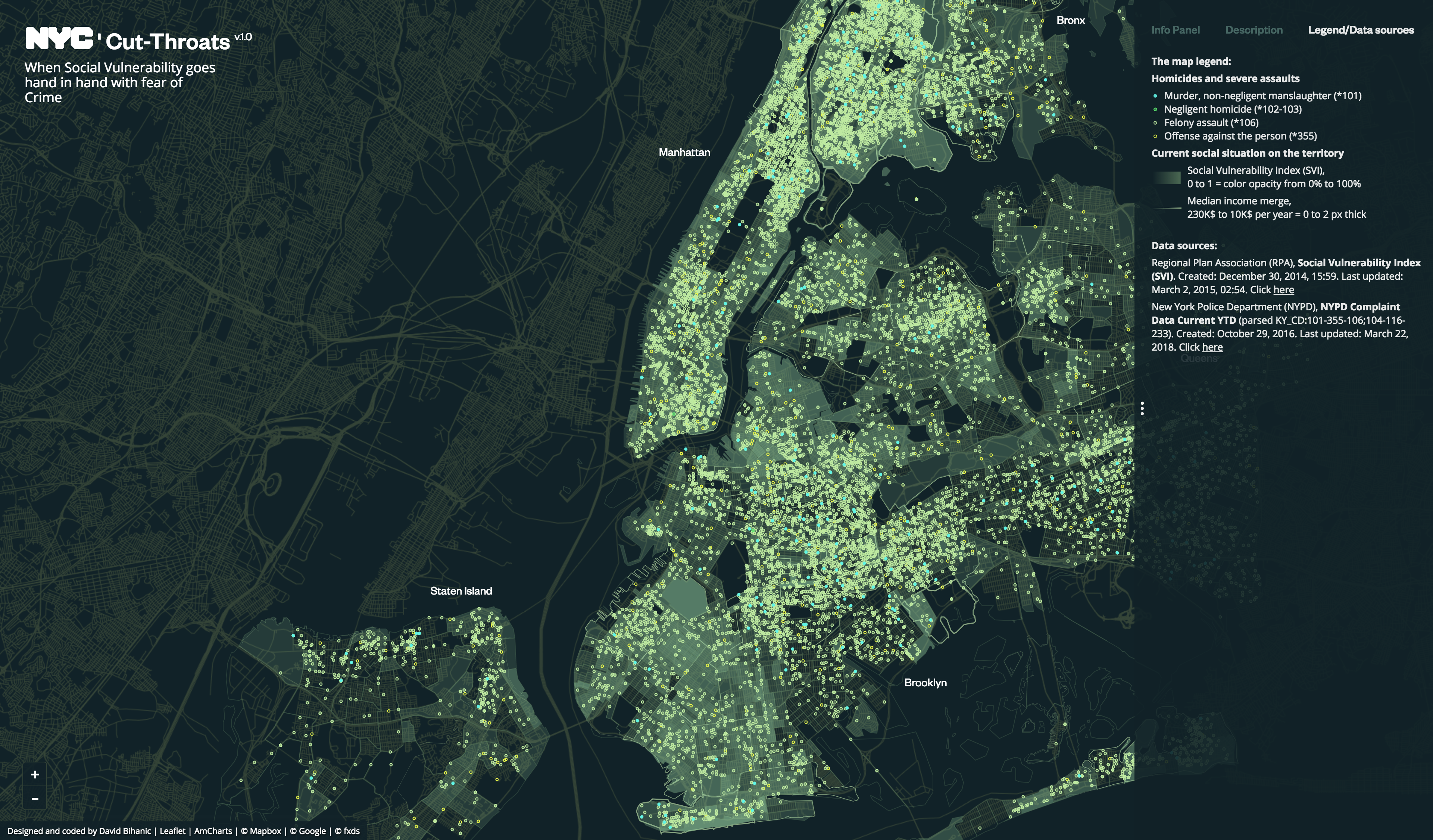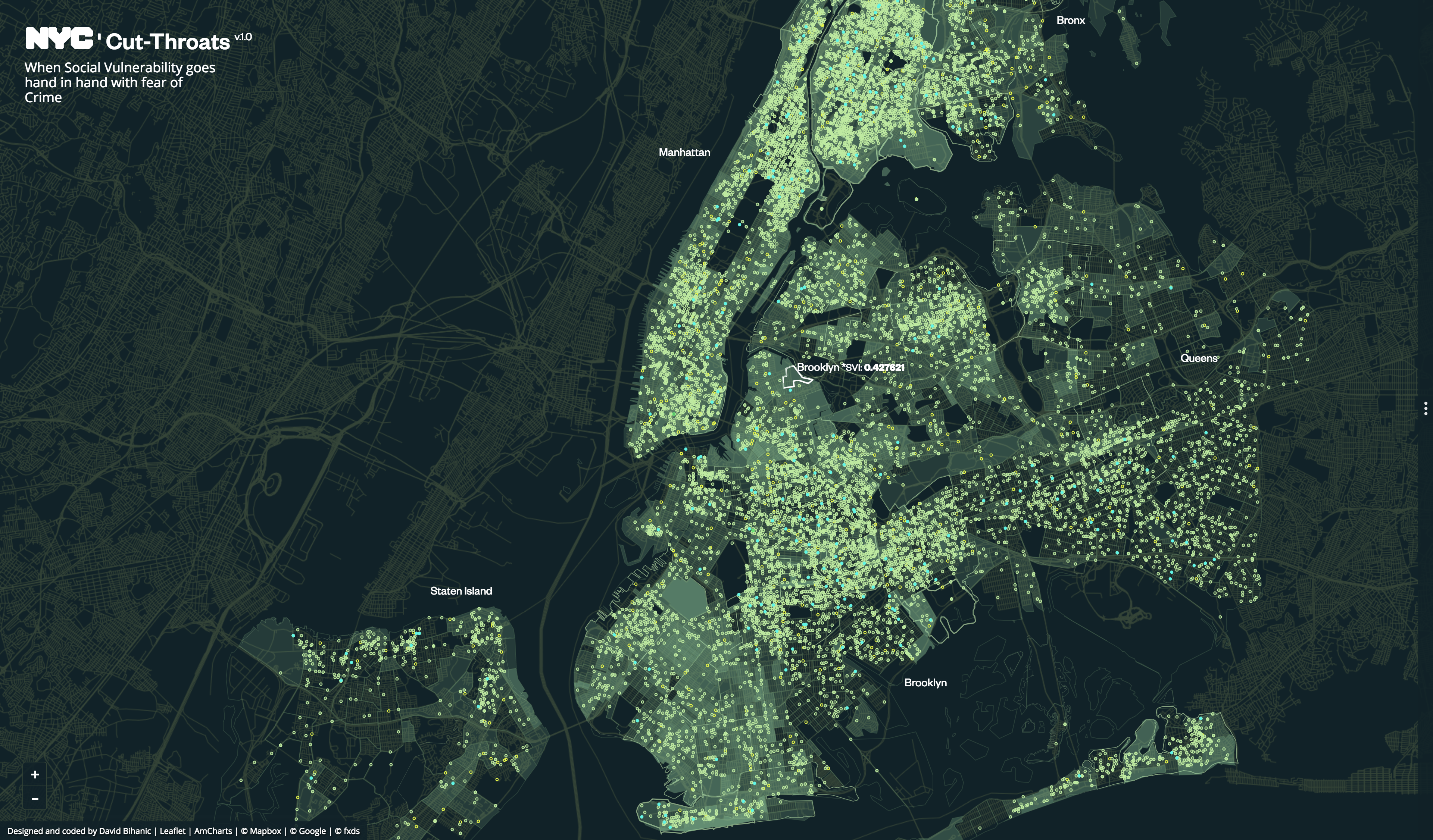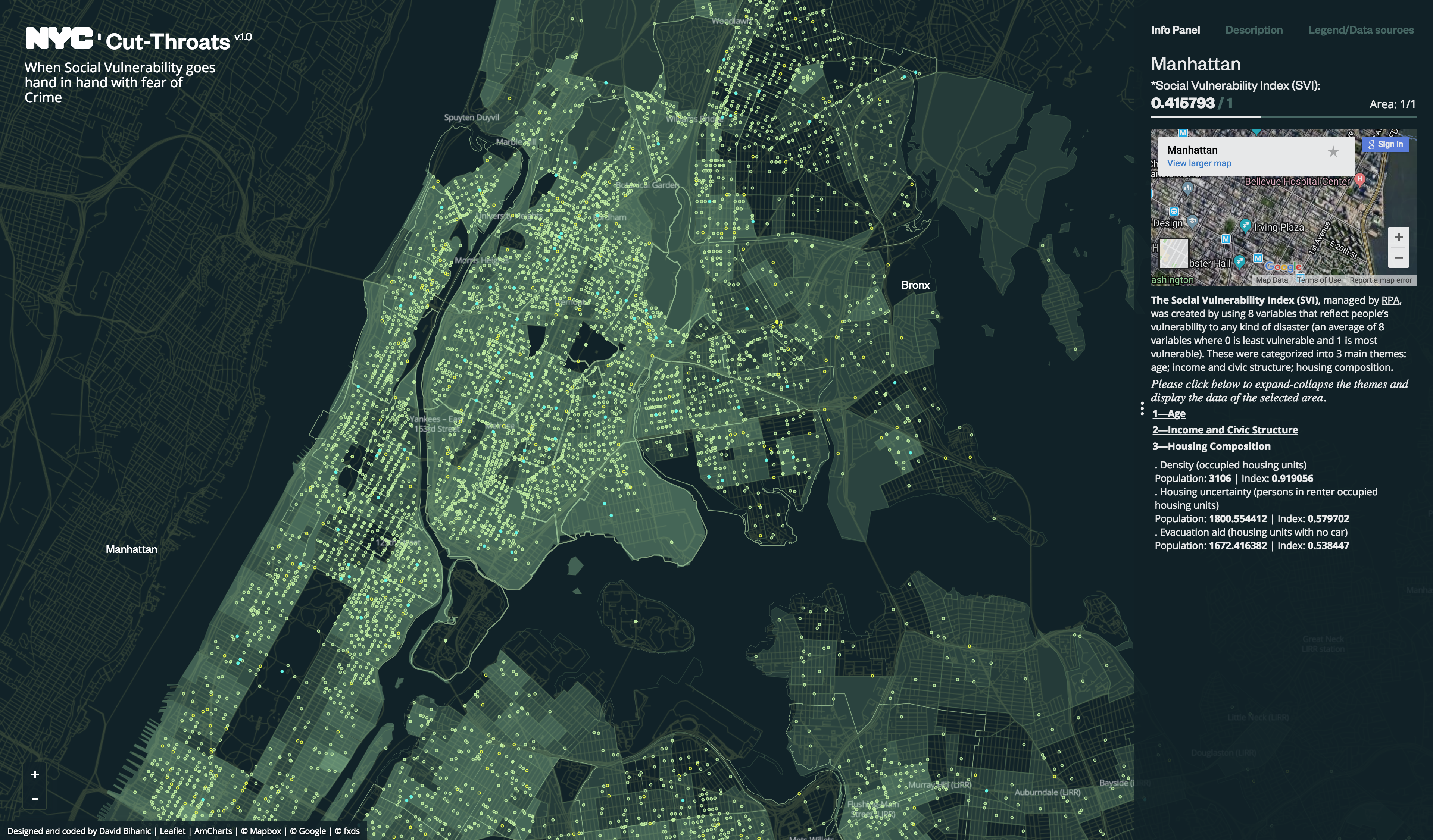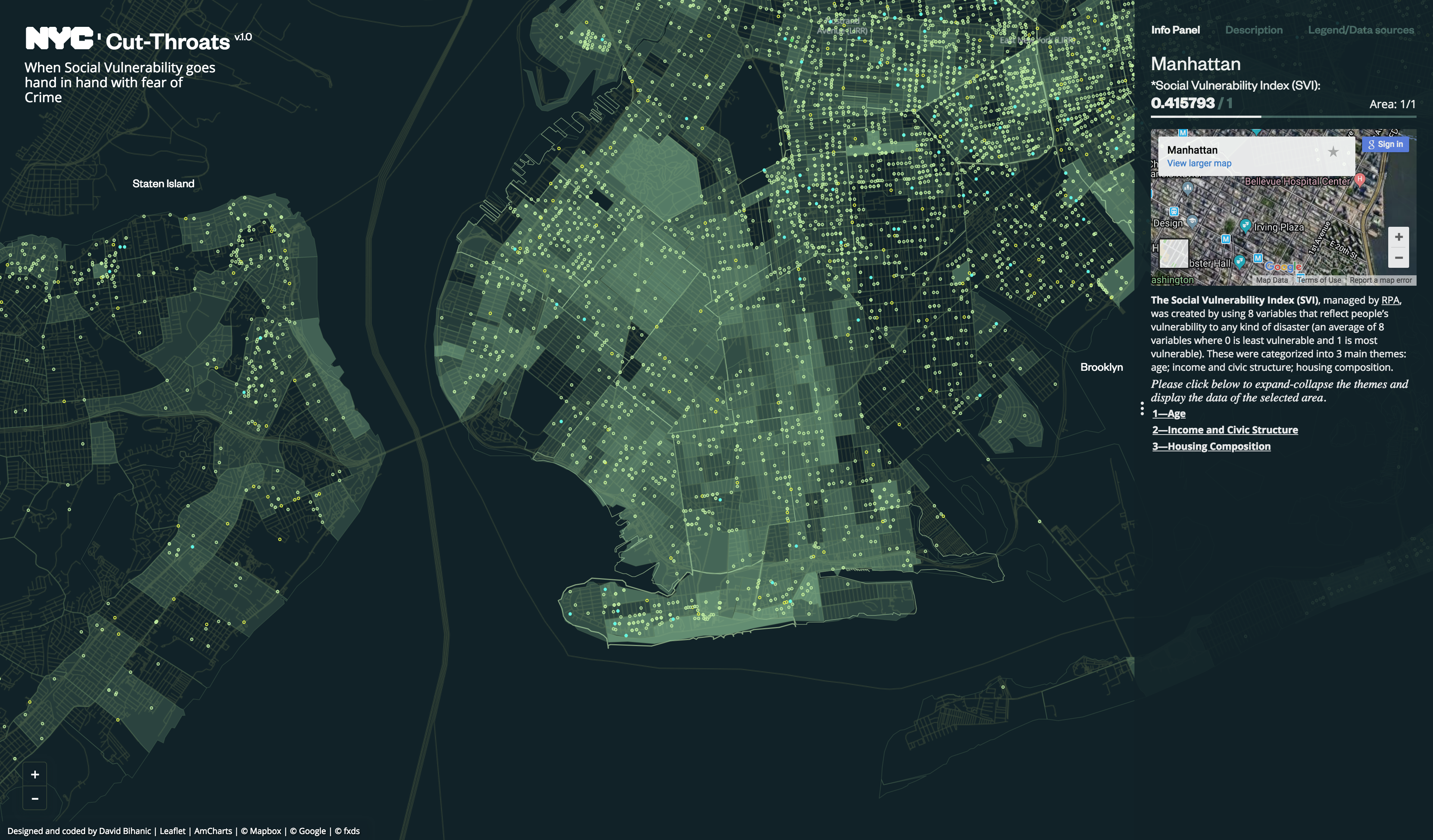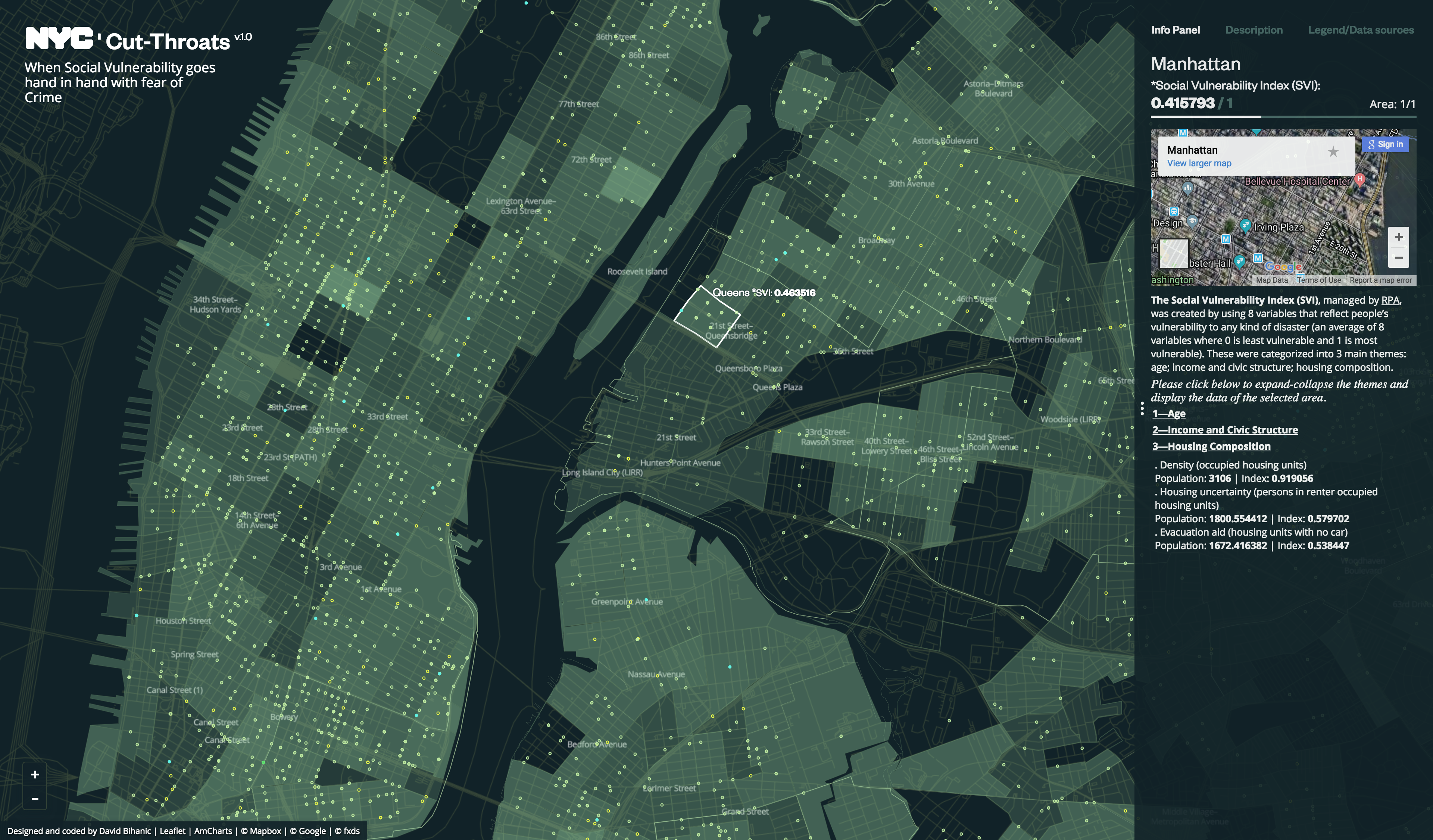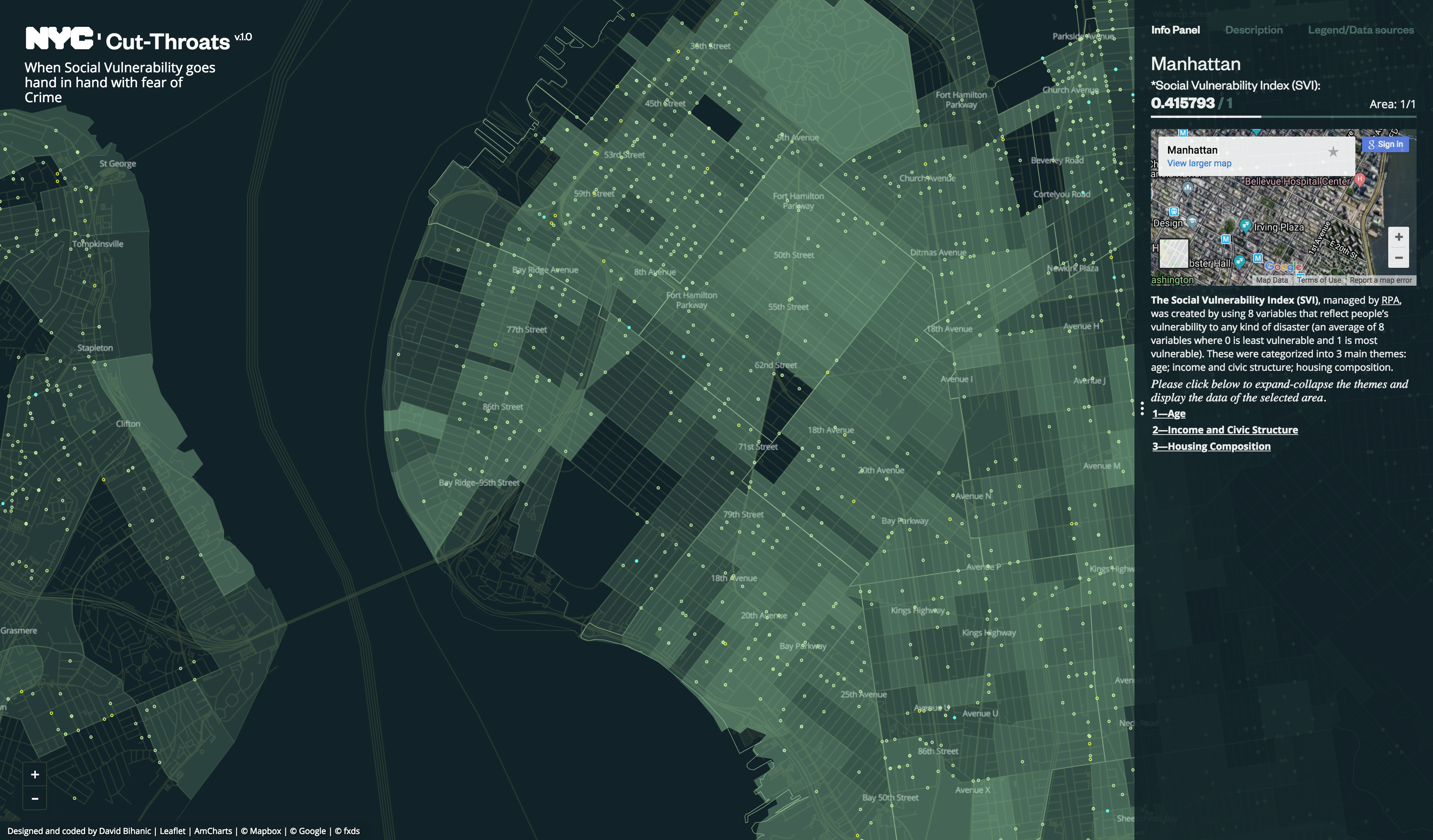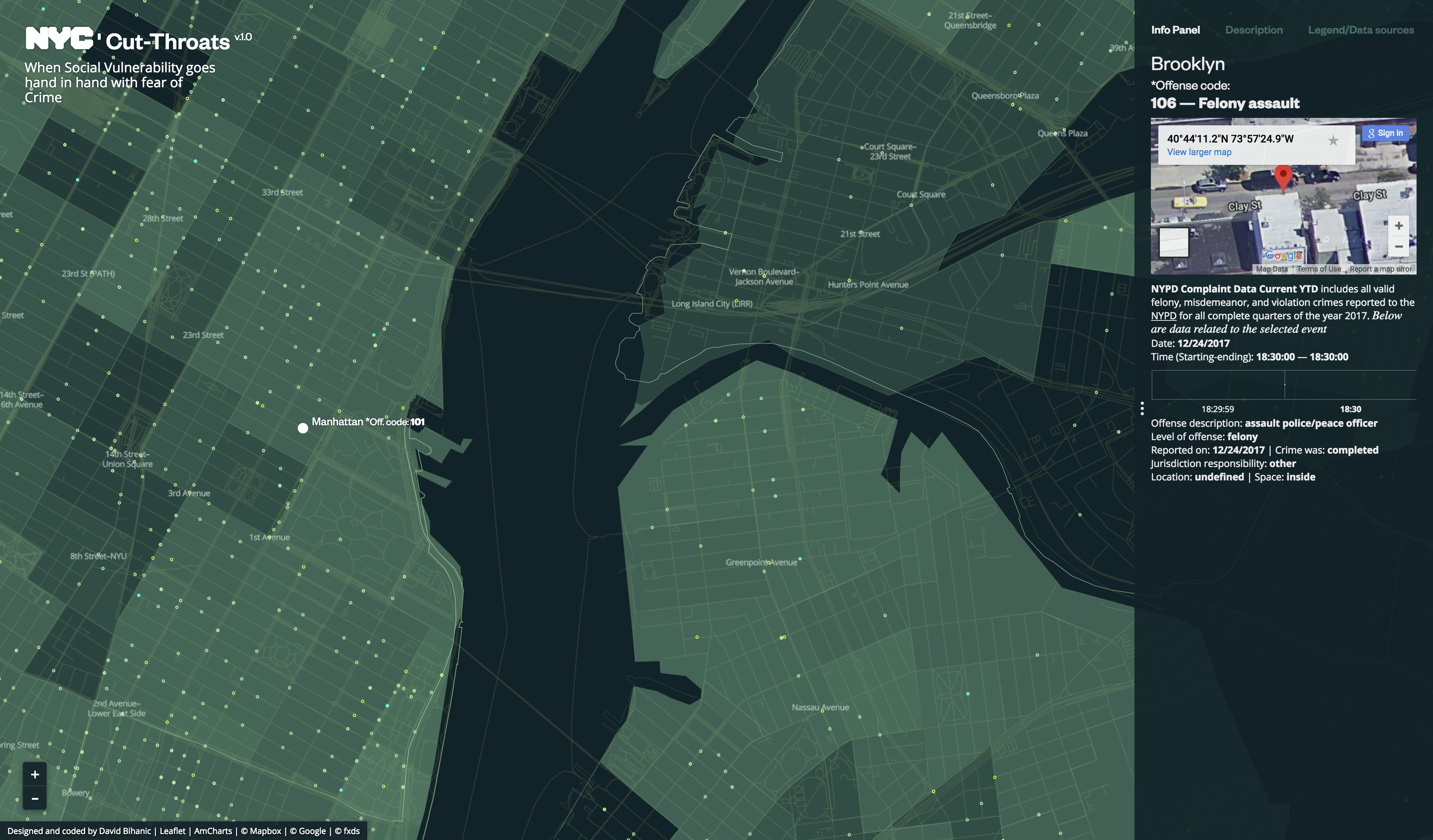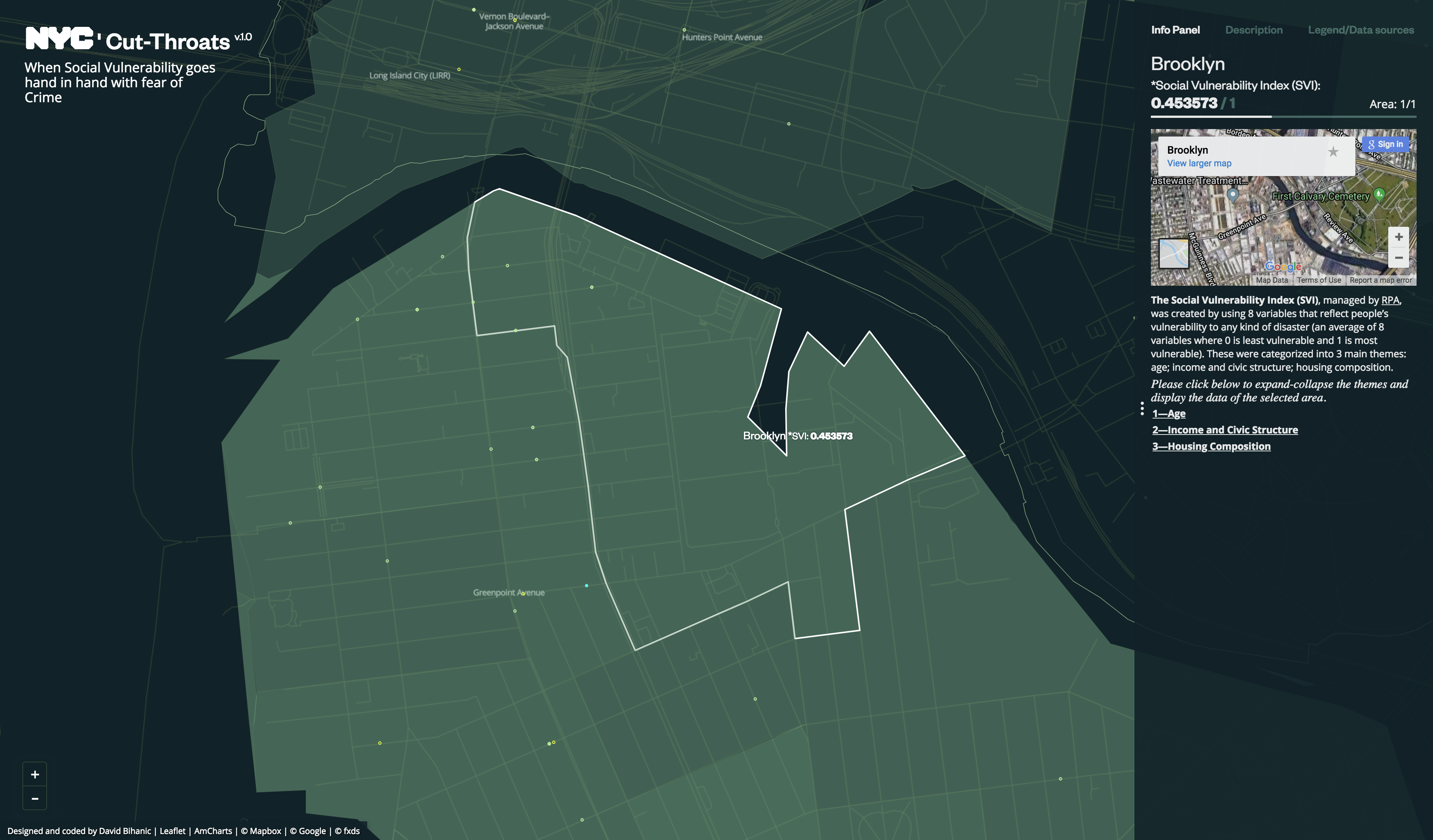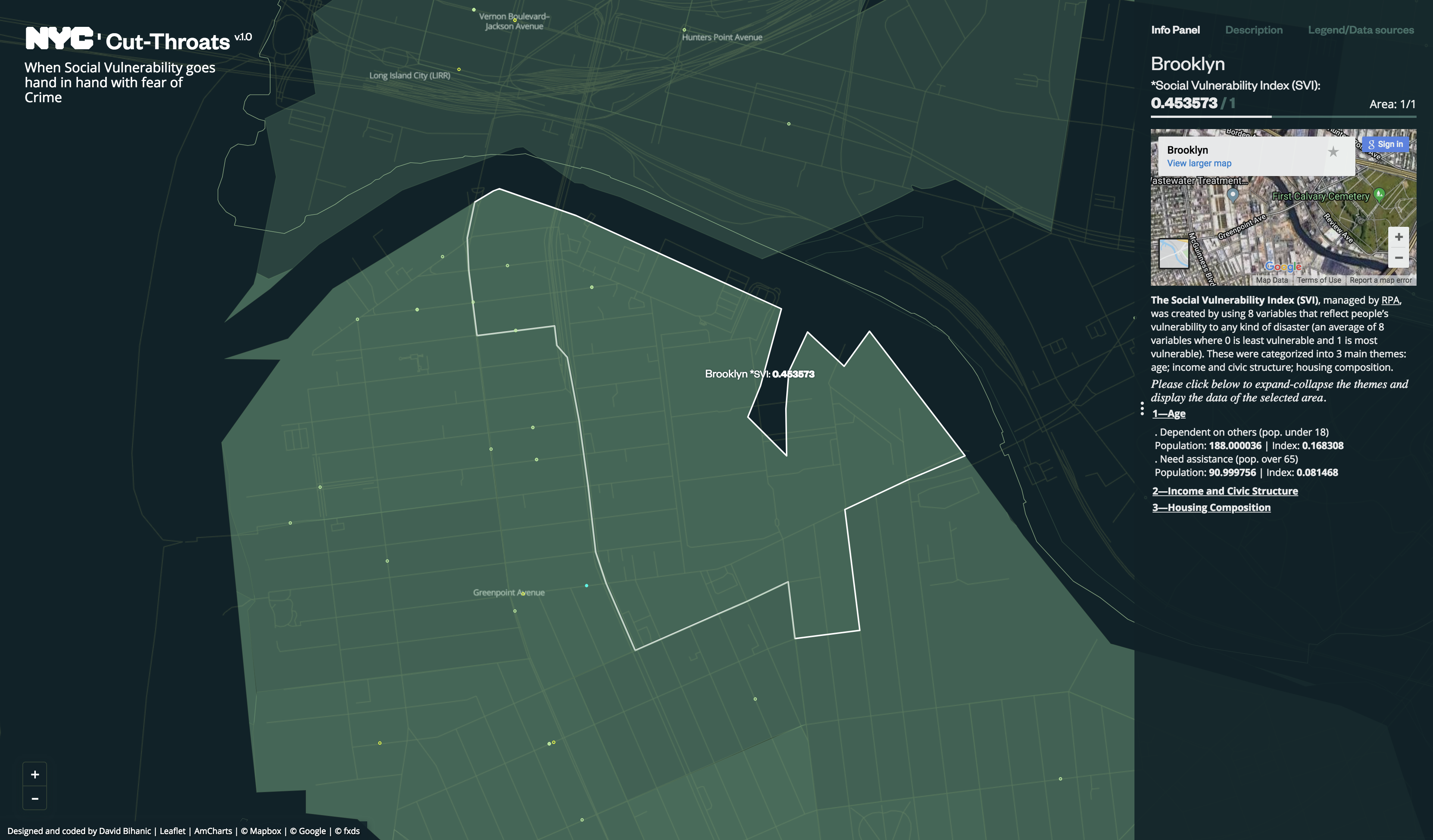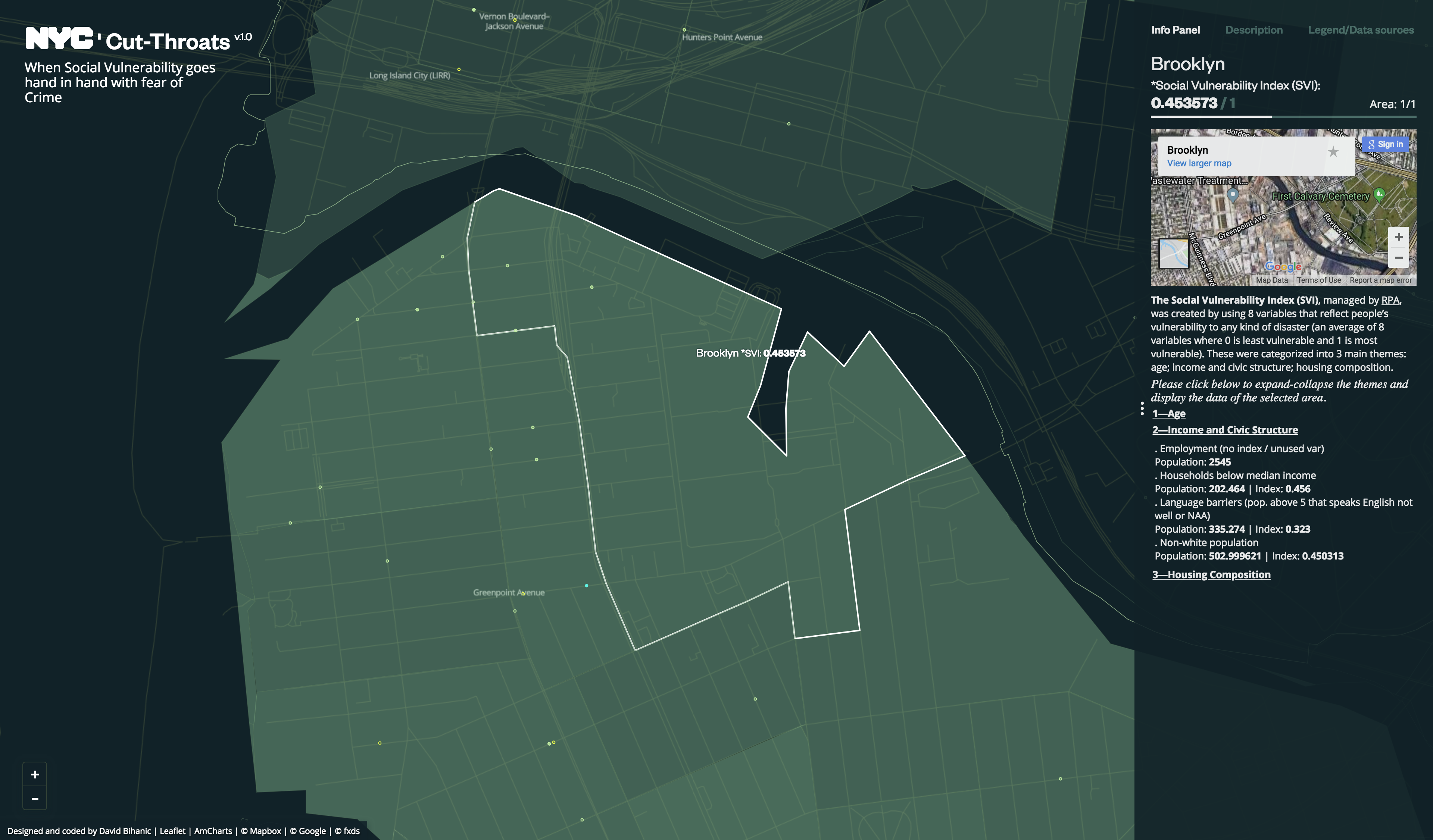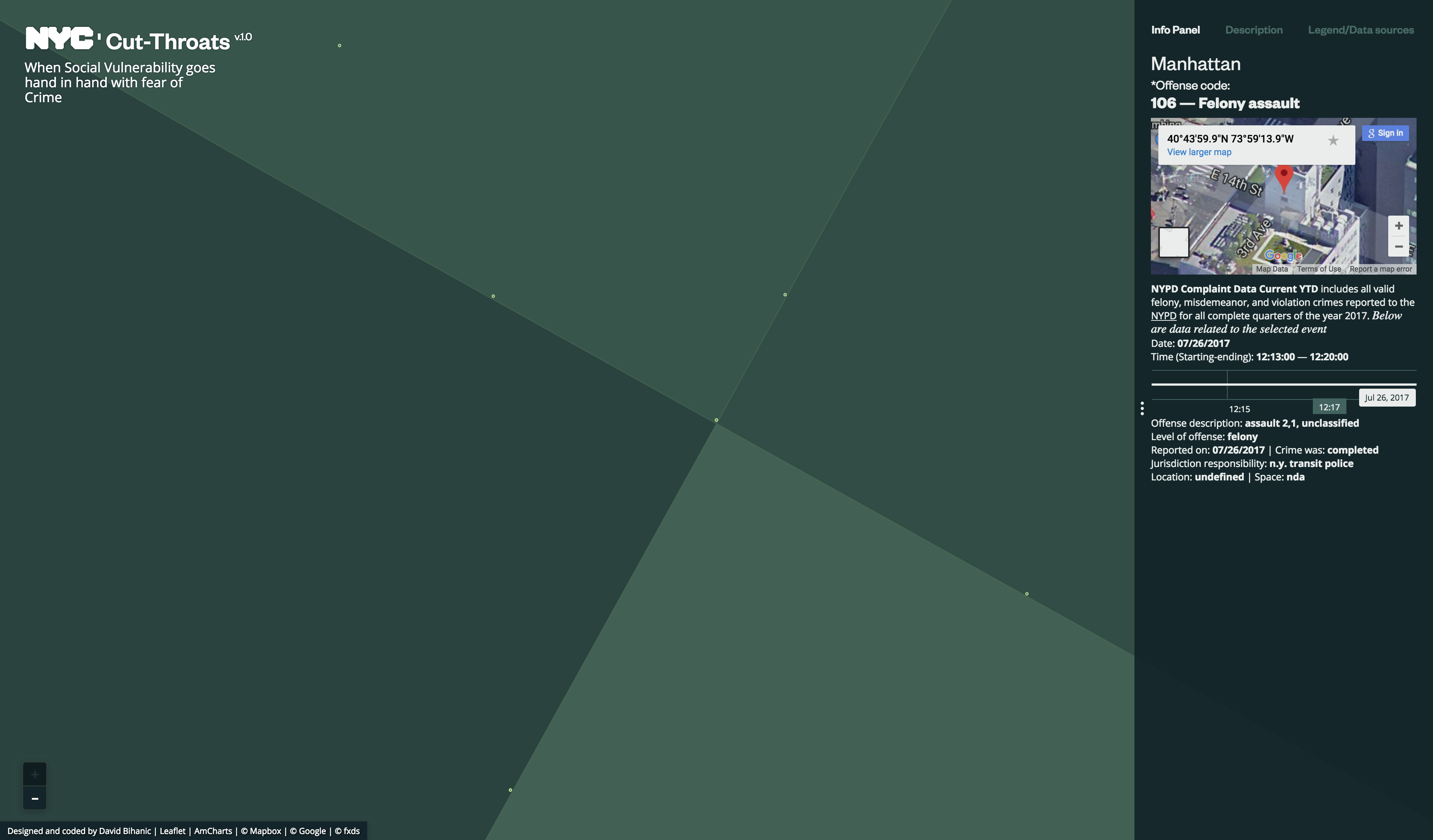 Screencast
Data sources:
Regional Plan Association (RPA), Social Vulnerability Index (SVI). Created: December 30, 2014, 15:59. Last updated: March 2, 2015, 02:54. Click here
New York Police Department (NYPD), NYPD Complaint Data Current YTD (parsed KY_CD:101-355-106;104-116-233). Created: October 29, 2016. Last updated: March 22, 2018. Click here
This data visualization was designed and coded by David Bihanic (2018).
To mention: David Bihanic, "NYC' Cut-Throats. When Social Vulnerability goes hand in hand with fear of Crime", June 2018. Retrieved from davidbihanic.com/nyc